From Tuesday, June 14 until Saturday, June 18, 2011, one hundred and twelve year six students from Ritsumeikan Primary School visited APU and took part in the "APU Camp". During their stay at APU, the students took part in a range of programs and enjoyed interacting with APU international students.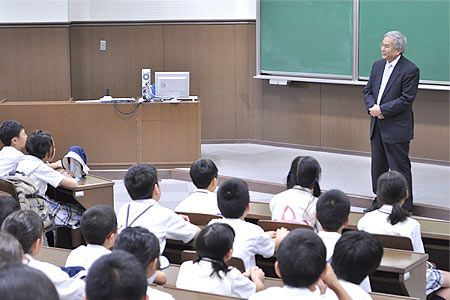 APU President KORENAGA Shun greeted the group at the Welcome Ceremony held on the first day of the program and encouraged the students to make the most out of their multicultural experiences at APU. Supporting the visitors during their stay, the international student-buddies were introduced before shaking hands with the children and welcoming them to APU. The students and buddies then introduced themselves using a mixture of English and gestures and played a range of games and other activities.

Student buddy, YOON Jungmin (APS1, Korea), commented on the event, "This camp has been a great opportunity for the students and us to develop through helping, interacting and understanding each other".

Ritsumeikan Elementary School teacher, KODAMA Kentaro, spoke of the importance of this cross-cultural experience, "It was challenging for our students to communicate and deliver a presentation in English but I am sure that working together in this way has helped them to grow and develop self-confidence".

During their stay at APU, the students researched and delivered a presentation on their buddy's home country and took part in field trips and other events with the help of their buddies. The students also took part in the "Vietnamese Week Grand Show" as special guest performers and sang a song for the audience. We hope that the time the students have spent with international students at APU has helped them to develop a greater understanding of different cultures.
Reporter, Student Press Assistant (SPA): HOURAI Yuki(APS3, Japan)