教育プログラム|連携事業
Jul 15, 2011
From Friday June 3, until Friday, July 29, the 2011 Summer APU Gateway Program is being held at APU for short term international students. A total of 27 students including 26 students from the USA and one student from Australia have been making the most of their summer break to take part in the Summer APU Gateway Program – an eight-week intensive Japanese language and culture experience program.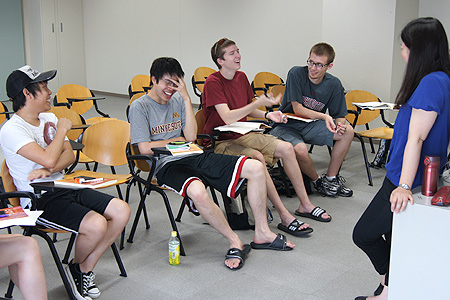 After arriving at APU each student was partnered up with student-buddy who helped them do some shopping and get settled in. Over the eight week period, the group will take part in intensive Japanese language classes in addition to a two-day field trip to Nagasaki, a farm-stay in Bungo Takada and cultural activities including Japanese tea and calligraphy.

During an intermediate-level Japanese class, the students practiced oral Japanese by talking about difficult experiences and situations they have encountered since arriving in Japan.

The group will be at APU until July 29 before returning to their home countries. APU has been offering this short-term program since 2007.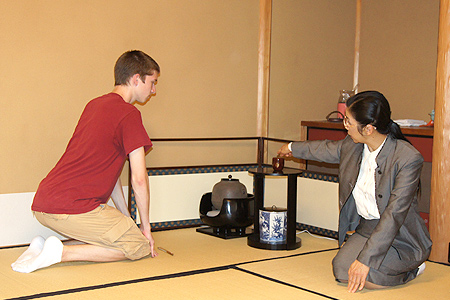 Four of the participating students gave their impressions of the Summer Gateway Program and why they chose to come to APU:

Khiet Thanh NGUYEN (University of Minnesota)
"I chose to come to APU to experience studying abroad and to study Japanese. I have really enjoyed my time and the support I have got from my APU buddy. In addition to the language classes, the Nagasaki field trip and scavenger hunt really gave us the opportunity to get more involved with the local community".

Sydnee DIECKMAN (Washington State University)
"I have always wanted to learn more about the Japanese language and culture. I have enjoyed making lots of new Japanese friends through this program and especially though club activities such as the APU Wind Orchestra".

Steven TURI (Washington State University)
"I have been studying Japanese since high school and have always wanted to study in Japan. The Summer Gateway program gave me the chance to fulfill this goal but also get credits during the summer holiday. In the future I hope to make use of my Japanese skills at a company with many Japanese clients".

John LIU (University of Minnesota)
"My course requires all undergraduates to have some form of overseas study experience and since I have always wanted to come to Japan, this seemed like the perfect opportunity. The people at APU have been so friendly and I have really enjoyed getting involved in club activities such as Futsal indoor soccer".