講演・シンポジウム|来学者
Jul 26, 2011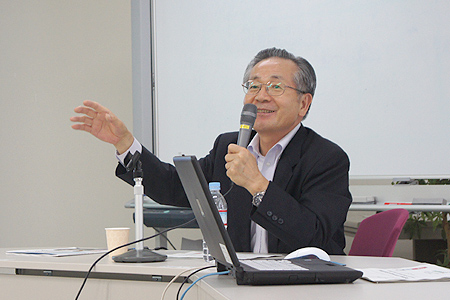 On Monday, July 4, 2011, Mr. ANZAI Takashi (Chairman, Seven Bank, Ltd) delivered an APU TOP Seminar (Social Outreach Seminar) based on his 48 years of experience in the Japanese financial world and discussed the ten years of progress at Seven Bank and the birth of a banking revolution.
The Seven Bank itself is a network of 15,553 ATMs (in 7-Eleven convenience stores and other locations) and internet banking facilities available across the country, and distinguishes itself from conventional banks by removing the need to physically visit a bank branch.

Joining the Seven Bank ten years ago, Mr. ANZAI explained, "There was something rather appealing about playing mother to a new-born bank". He then explained the company's financial position and how, despite a challenging initial few years, the bank has increased its annual number of ATM transactions from 14 to 609 million. Mr. ANZAI explained that the accessibility and strength of the 7-Eleven chain, and the successful efforts to form strong business alliances with 567 financial institutions as among the factors responsible for this success.

There were several interesting questions from the floor. Addressing a question by CHINYAMAKOBVU Taurai (GSM, Zimbabwe), Mr. ANZAI explained that the bank did not intend to switch to conventional banking, and while there are country specific restrictions for global expansion, it is a gradually possibility.

With ATM networks expanding to numerous locations, and the recently established international money transfer service, Seven Bank has truly evolved into a "bank for anyone, anytime, anywhere".
Reporter, Student Press Assistant (SPA) SETHURAM Shyamala(APM3, India)