On November 2, students who participate in the APU symphony orchestra, held a ceremony celebrating their newly formed club in the Millennium Hall and played all movements of Beethoven's 1st symphony.
In September, the conductor of the APU Symphony Orchestra (APUSO), Mr. TSUZAKI Masahisa; President of the APUSO, Mr. KIDO Keisuke (APM junior); and Vice President Mr. TAMURA Makoto (APS freshman) brought up the idea of developing an orchestra at APU. And after only 2 months the APUSO was formed. In the orchestra there are novice players and some who have played in solos or junior orchestras that have toured Japan nationally. The orchestra also contains some international students from Korea, Switzerland, and the United States of America.
The idea of the APUSO is for music to overcome language barriers and to make sounds that reach the heart. As music is a kind of communication tool common to the whole world, the orchestra aims to make music that will resonate in people's hearts. Although there are many amateur and professional orchestras all over the world, the APU Symphony Orchestra and its adviser, Professor Takano, believe that due to the orchestra's unique dynamics there will be music, which only the APU orchestra can play.
The APUSO has only just started but they are currently busy preparing for their first concert. Many members of the orchestra are active in other musical pursuits, and there are also some players who have never played in an orchestra before. However, loving music and having a desire to play are common to all members. The APUSO is hoping that someday their music will deeply touch many people's hearts.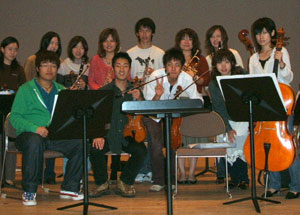 The orchestra currently practices and they are going to focus on music that will play during their inaugural concert.