On Saturday, January 21, 2012, the APU "Shinmyoung" Samulnori Team delivered their 8th Annual Concert under the theme of "Limitless" at the APU Millennium Hall. Many students, faculty, staff and members of the general public came along to enjoy the latest performance of Korean traditional music by the Samulnori Team, a registered premier student organization.
"Samul" and "nori" together in Korean means "to play with four instruments", namely the Kengari, Bukk, Jang-gu and Chin.

In addition to musical performances featuring the characteristic fast-paced Shinmyoung rhythm, the group also introduced some of their other projects and showed a film of their rehearsals. This gave the audience the chance to see both a live stage performance and also a behind-the-scenes look at Shinmyoung. One audience member commented that "It was energizing to see the entire team working together with such harmony".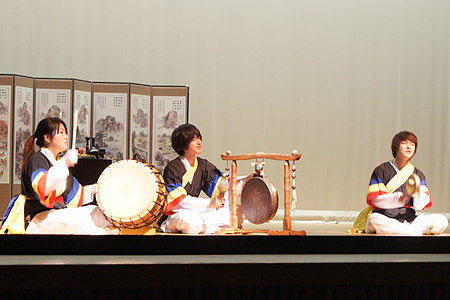 Shinmyoung representative, KIMURA Akari (APS2, Japan), commented on the performance, "We are very thankful to see so many people come along to our performance again this year. In the future we hope to continue sharing the beauty and enjoyment of Korean traditional music through a range of performances and events".

Shinmyoung was established in 2003 and currently has 30 members including both international and domestic students. Their mission is to introduce Korean traditional performing arts around the world and have performed at a range of events both on and off campus including cultural exchange events in prefectures around Kyushu.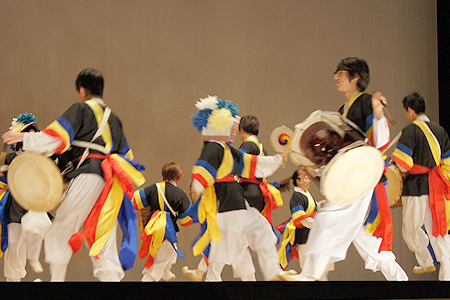 Footage of their latest performance was streamed live via Ustream.
Reporter, Student Press Assistant (SPA): OGAMI Kenichiro(APM2, Japan)
Only available on PC