講演・シンポジウム|来学者
May 18, 2012
On Friday, May 11, 2012, H.E. Mr. Urs BUCHER, Ambassador and Head of Mission at the Embassy of Switzerland, Tokyo, visited APU and delivered a special lecture under the title of "Swiss Foreign Policy: Switzerland as a provider of diplomatic services".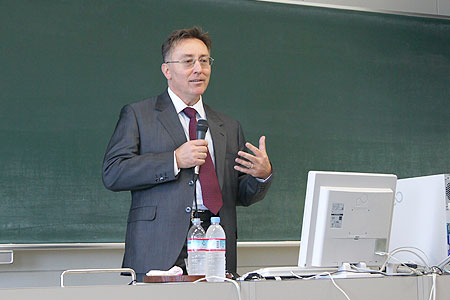 Ambassador BUCHER began by providing an economic profile and a few facts and figures about Switzerland including the land-locked nation's geography, linguistic and cultural diversity. Despite its cultural and linguistic diversity, Switzerland has managed to maintain a strong sense of union through what the Ambassador described as "an absolute consensus among all Swiss people about how we want to be governed – through direct democracy".

"Direct Democracy" practiced in Switzerland ensures that "political decisions are made in the closest vicinity to the people". Indeed all political decisions at the local, prefectural or federal level, including tax rates and public works projects, can be decided by a popular vote.

It is the active foreign policy, combined with Switzerland's tradition of neutrality, Ambassador BUCHER explained, that has allowed the small republic to play an important role as an international mediator between conflicting parties culminating in their involvement in 15 peace negotiations in just the past seven years. The internationally recognized neutrality of Switzerland and its contribution to the international community has also resulted in it hosting 36 international organisations and NGOs including the United Nations Organization, the World Trade Organization, and the International Committee of the Red Cross.
Following the lecture, the Ambassador invited questions from the audience including Swiss diplomatic neutrality, Swiss financial systems, immigration, and the practical aspects of direct democracy.

Ahead of the lecture, Ambassador BUCHER met with APU President KORENAGA Shun, Vice-President HONMA Masao, and Pro Vice-President, Edgar Porter. During their meeting, Ambassador BUCHER agreed to become a member of the APU Advisory Committee as an Ambassador Member. APU currently has two students from Switzerland. With Ambassador BUCHER's membership to the Advisory Committee, we look forward to an even stronger cooperative relationship with Switzerland in the future.