On Wednesday 11 January 2006 the 1st Seminar Convention was held in Millennium Hall with approximately 30 Asia Pacific Management (APM) 3rd year seminar students.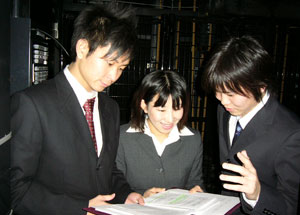 The convention was held for 6 groups which carried out case studies of Honda Motor Co., Ltd. to present their findings in their respective fields of research. At the meeting approximately 30 students who wished to hear the presentations were also in attendance.
On the day Vice-President NAKAGAMI along with four APM professors sat in on the presentations and commented on the groups' hypotheses, methods of investigative research, and their views on the significance of the groups' work. Vice-President addressed the 1st Seminar Convention with the follow congratulatory speech: "It is most pleasing to see this kind of plan being executed as APU enters its 6th year since its inauguration. I hope that the [contributions made by this undertaking] can be used as a resource for future interaction with students from other universities".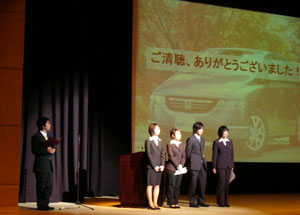 Ms. TERAMOTO Risa (APM 3rd year) opened the convention by stating: "The breadth of our knowledge and friendship was enlarged by the interaction between colleagues from different seminar classes. We faced many problems but we were able to overcome them thanks to the enthusiasm of the group members. It would be great if this convention turns into an APU tradition and becomes a forum for intellectual discourse".
First and second year participants commented that they "appreciated the content" however wished that "the details of the groups' research had been presented more thoroughly".
Future conventions are already in the works for next year between a triumvirate of the Academic Office, the colleges, and students who are aiming to improve on their first effort.