講演・シンポジウム|来学者
Nov 22, 2012
On Thursday, November 15, 2012, the US Under Secretary for Public Diplomacy and Public Affairs, Tara Sonenshine, visited APU and delivered a special lecture under the title of 'Engaging Asia: Public Diplomacy and 21st Century Statecraft' as part of Associate Professor Rothman's 'Introduction to International Relations' lecture.
During her speech, the Under Secretary described how the US is placing a greater importance on the Asia Pacific region: "President Obama, who was born in Hawaii and spent some formative childhood years in Indonesia, has been called America's first Asia-Pacific president. And under his leadership, we are undertaking a strategic rebalancing toward the region, as well as reaffirming our presence and participation in it".

"This is one of the most vital and dynamic regions in the world, with more than one third of the global population and almost one half of the world's economic production. So if we achieve productivity and prosperity here, it will raise the standard of living and create new opportunities across the world".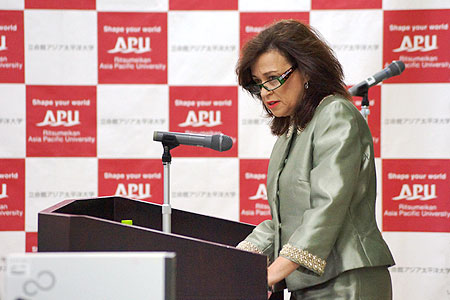 The Under Secretary then described the importance of education and equipping ourselves with the tools needed to make a difference. The Under Secretary described the how 'Tomodachi Initiative' has expanded from its original role in the relief efforts following the Tohoku earthquake and tsunami disaster, into a US government-backed program to encourage greater exchange between US and Japan young people through educational, academic, sports, music, arts, entrepreneurship, and leadership programs.

In addition to describing the opportunities for, and benefits of, college education in America, the Under Secretary praised APU students: "With your multicultural education, your command of English and global outlook, we will look to you and to others like you around the world to lead us in the 21st century. We have high hopes for you".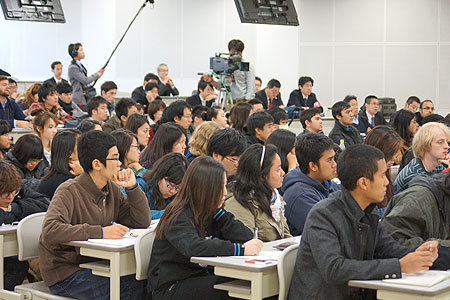 At the end of the lecture, the Under Secretary – the recipient of 10 News Emmy Awards and other awards in journalism – invited questions from the audience. Based on her many years of experience in broadcasting, print, and online media, and in response to a question about the way in which media coverage has evolved into a fusion of news and show business, the Under Secretary stated that "I think that information and news belong on one side of the ledger, and entertainment and soap operas on the other. But that's a very traditional view and there is now a grey area where we have this blend of news and entertainment. Where it is very successful, I think, is where you can embed news content in an entertainment program. It's a very complex arena, but actually a growing area of study as to what the relationship is between hard news and soft entertainment".

In January this year, APU also hosted a special lecture by the Ambassador Extraordinary and Plenipotentiary of the United States to Japan, H.E. John V. ROOS. APU currently has 59 students from the US studying in the undergraduate and graduate schools.

Footage of Under Secretary Sonenshine's lecture can be viewed on the APU Ustream channel:
NB: external link
http://www.ustream.tv/channel/ritsumeikan-apu