教育プログラム|連携事業
Nov 30, 2012
On Thursday, November 22, 2012, a ceremony was held to welcome nine Japanese business sector employees onto the APU Global Competency Enhancement Program (GCEP) for the fall semester. A similar ceremony was also held on Monday 26. This semester APU welcomes two employees from Sony, three from Toho Titanium, and four from the Nippon Electric Company (NEC) respectively. The ceremony was attended by the trainees, HR representatives from their respective companies, APU executives and faculty in charge of the program.
During the November 22 ceremony, Dean of the College of International Management and the Graduate School of Management, Prof. YOKOYAMA Kenji, offered the trainees a few words of encouragement: "While you are here I hope that you will equip yourselves with greater cross-cultural understanding skills and the ability to adapt yourself to different cultures – the latter of which will come to you naturally during your stay at AP House and through your interactions with our diverse student body. I am confident that you will have gained these skills by the time you leave us".

During their 1-2 month stay at APU, the trainees will participate in programs designed to meet their individual business needs. The trainees will be staying at AP House and, through interaction with APU students, will work towards developing a wider and more international outlook.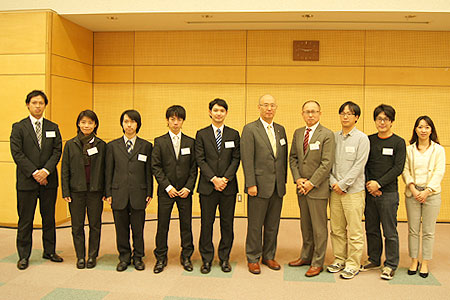 The Global Competency Enhancement Program (GCEP) was developed to provide industry and business trainees the opportunity to experience our multicultural and multilingual campus environment while studying at the undergraduate or graduate level.

More information on the GCEP Program (pdf, available in Japanese only)