教育プログラム|連携事業
Jan 22, 2013
On Friday, December 21, 2012, a debriefing session and completion ceremony were held to mark the end of a one-month GCEP* training program for four NEC employees. During the ceremony, the four participants gave short presentations in English about their time at APU and received feedback from the audience of APU faculty, students and staff involved in the program.
The ceremony was attended by Senior Manager of the NEC HRM Department, Ms. TAKAHASHI Nobuko, APU Vice-President and Dean of Academic Affairs, HIRATA Junichi, APU Liaison Director, TAKANO Kenji, and faculty members involved in the program.

Following the presentations, Senior Manager TAKAHASHI Nobuko shared her impressions on the program: "Our trainees were inspired by APU students to broaden their outlook and develop their cross-cultural communication skills. NEC faces many challenges in global business, so I hope that the trainees will inspire their Japanese colleagues and can contribute to NEC's global expansion. We appreciate the effort and support of the APU faculty and students involved in this program and I hope that we can continue to collaborate with APU in the future".

Liaison Director TAKANO Kenji offered the closing remarks and spoke of his motivation to launch this program: "People involved in international marketing are always encountering people of different nationality, language and cultural backgrounds. But nowadays, with the onset of globalization, it is important that people back in the head office and those involved in product development also get to know and understand these differences so that they can develop the kinds of products and services that meet the needs of the international market. I hope that your time at APU has provided you with such an opportunity".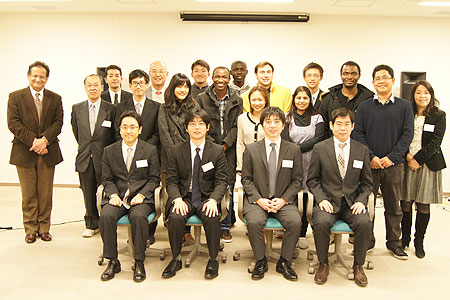 A follow-up session was held in January 2013 at the NEC Tokyo headquarters which was wrapped up by a report session on Friday, January 18, to an audience of program representatives.

*The Global Competency Enhancement Program (GCEP)
GCEP was developed to provide industry and business trainees the opportunity to experience our multicultural and multilingual campus environment while studying at the undergraduate or graduate level.

More information on the GCEP Program (pdf, available in Japanese only)