On Wednesday, January 23, 2013, a group of approximately fifty APU students presented the results of their research into regional tourism resources to an audience of town officials and local community members. The presentation was held at the Toyooka Fureai Centre (Oita Prefecture, Hiji Town).
The presentation was held as part of APS Associate Professor TODOROKI Hiroshi's 'Research Methods for Tourism and Hospitality' lecture, and aimed to help participants gain a better understanding of the processes involved in the uncovering and commercialization of potential local tourism resources. The results were based on data gathered since October 2012 including a review of the surrounding literature, interviews with community members, and carrying out guided tours for tourists. Students involved were divided into 10 groups, each with a different research focus. The research was carried out with the cooperation of the Hiji Town Hall and Kameya Style.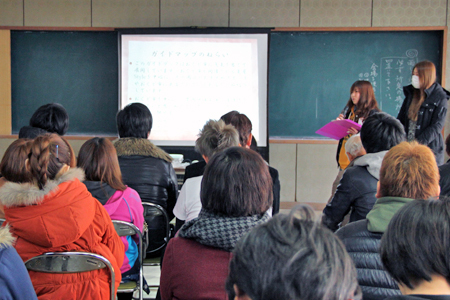 During the presentation, students introduced their ideas for guided tours focusing on underutilized ocean and mountain natural resources, shrines, historical thoroughfares, and other cultural resources. Each guided tour was developed under a different concept including historical tours for women, stamp relays, and cycle maps that take advantage of Toyooka's bike-friendly terrain. Another group proposed featuring local eateries in the Toyooka area that only use local ingredients, and eatery owners passionate about their local community, as a way of creating tours that let people experience the local flavors and identities of Toyooka. The results of this project are to be published as a guidebook, distributed among the local community, and will play a role in regional tourism redevelopment.
Two similar lectures focusing on the Toyooka area have been held involving the creation of guide maps and the organizing of guided tours for travelers staying in the area.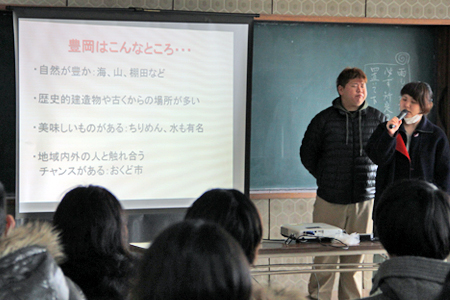 The College of Asia Pacific Studies (APS) focuses on four major study areas: Environment & Development, Hospitality & Tourism, International Relations & Peace Studies, and Culture, Society & Media. In AY2012, the Hospitality & Tourism study area offers courses in the following areas: tourism policy, heritage and cultural tourism, ecotourism, travel and hospitality management, and many more.
Related link: College of Asia Pacific Studies (APS), Facts and Figures