On Wednesday, May 29, 2013, thirteen APU international students were appointed as International Exchange Advisors to Saiki City at a Certificate Presentation Ceremony held at the Saiki City Citizen's Hall.
Throughout the year, the newly appointed International Exchange Support Advisors will visit primary and junior high schools in Saiki City, help to raise the students' communication skills, introduce their culture, and support international learning through games, song, and other activities. The ceremony was attended by the Mayor of Saiki City, NISHIJIMA Yasuyoshi, Superintendent of the Saiki City Board of Education, BUNDO Takashi, and representatives of Saiki City primary and elementary schools. APU Vice-President YAMAGAMI Susumu and other officials represented APU at the ceremony.
In July 2003, over ten years ago, APU concluded Friendship Exchange Agreements with municipalities that, following local body amalgamations, form the current Saki City. During the Certificate Presentation Ceremony, the Mayor of Saiki City, NISHIJIMA Yasuyoshi addressed the APU students: "Interaction with APU students provides our children with an opportunity to encounter different ways of thinking and develop a wider outlook. I hope that you will take pride in your appointment as International Exchange Support Advisors and become active team members. I also hope that you will enjoy exploring Saiki City and develop friendships with the local community members". Mayor NISHIJIMA then presented a certificate to the APU students who successfully passed the rigorous screening process by Education Superintendent BUNDO.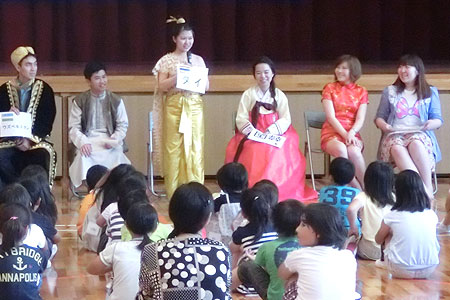 APU Vice President YAMAGAMI then delivered a short speech. "Learning about each other's culture through this kind of exchange will be a great experience for the APU students and Saki City children alike. I hope that this experience will help to develop your characters and also deepen the relationship between Beppu City and Saiki City".
Each of the certificate recipients then introduced themselves to the audience and shared their aspirations for the future, including TRAN Ngoc Phuong Mai (College of International Management, Year 2, Vietnam) who commented that "I have interacted with children many times in the past, but I am always a little nervous. Despite this, I intend to commit 200% to this exchange project".
Representing Saiki City schools, UENO Kozo, Principal of Honjo Junior High School, then addressed the audience in English. "Last year I took a group of Honjo Junior High School students to APU and enjoyed seeing them proactively use their English. I believe that this is the result of the exchange we have had with APU over the last 10 years. The interaction our students enjoy with APU students will no doubt lead to success in the future, so please build lasting friendships".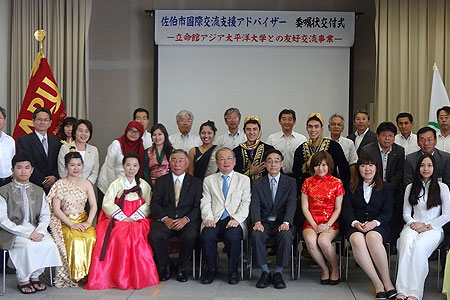 Approximately 100 APU international students have served as International Exchange Support Advisors and taken part in exchange projects with Saiki City.
The International Exchange Support Advisors for AY2013:
| | | |
| --- | --- | --- |
| Name | College / Year | Nationality |
| TRAN Ngoc Tram Anh | College of International Management 3rd year(APM3) | Vietnam |
| TRAN NGOC PHUONG Mai | APM 2 | Vietnam |
| LIU Yu | College of Asia Pacific Studies 2nd year(APS2) | China |
| XU Luxi | APS 2 | China |
| YOON Jungmin | APS 3 | Korea |
| SINCHAROONWONG Natchanan | APS 1 | Thailand |
| TAN GHEE CHUNG | APS 2 | Malaysia |
| AKRAMOV Akbarjon | APM 2 | Uzbekistan |
| ABDURAHMONOV Asilbek | APM 2 | Uzbekistan |
| Alisha TULADHAR | APM 2 | Nepal |
| SHAKYA SUSHMITA | APS 2 | Nepal |
| UDENI SUBASINGHE | APS 3 | Sri Lanka |
| Annisa Istighfari | APS 2 | Indonesia |