From Thursday, May 17 until Monday, July 15, 2013, APU is hosting 13 students from the Georgia Institute of Technology (USA) on the LBAT (Languages for Business and Technology) Program. During their stay, the students will take part in an intensive Japanese language and cultural experience program to help them gain an in-depth understanding of life and business in Japan. We spoke with three Georgia Tech students and heard about their experiences so far.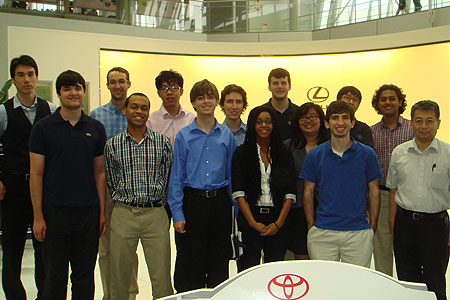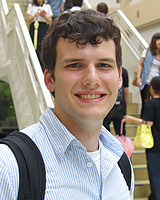 Andrew Grice
Major: Nuclear Engineering, Year 4
"I came to APU to improve my Japanese skills and meet people from different cultures. I really enjoy the life at AP House and making new friends there. A highlight of the program for me was the homestay. My host family was so friendly and they really helped me to see what life is truly like in the Japanese family home. I plan to make the most of the time I have left in Japan and will surely miss the friends I have made here".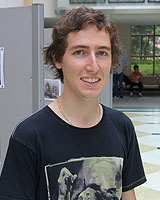 Taylor Meares
Major: Computer Engineering, Year 3
"I visited Japan in 2010 on a short-term program and this experience really fuelled my interest in the Japanese language and culture. I have genuinely enjoyed life at AP House – the people are so sociable and always seem to be out in the corridors talking or cooking together. The visit to the Yasukawa Electric Corporation plant was really interesting for me and I enjoyed seeing all the industrial robots and automation equipment. As a computer engineering major, I really liked seeing the technical side of Japan".
Colleen Lu
Major: Japanese, Year 4
"I've been interested in Japanese since I began reading Japanese manga and watching anime as a middle school student. But I am also interested in the traditional side of Japanese culture and have enjoyed taking part in the Japanese tea ceremony and calligraphy classes. My parents are from Taiwan so it is interesting for me to see the differences between Japanese and traditional Chinese kanji. A highlight for me was visiting CyberConnect2, a video game software developer. My career goal is to become a translator for Japanese video game software, so this was a great experience for me".
During their remaining time at APU, the Georgia Tech students will continue their Japanese studies, take part in more cultural activities and work with their Japanese language "buddies" to improve their Japanese skills.
Related link: LBAT (Languages for Business and Technology) Program for the Georgia Institute of Technology, USA
NB: external link