On Wednesday, January 18 a Graduate School Open Seminar, "Corporate Social Responsibility (CSR) in the Asia Pacific: NIKE's Case" was held by Ms. Aileen L. Diaz de Rivera, Worker Development Manager of the Asia Pacific, Corporate Social Responsibility Compliance for NIKE, Inc.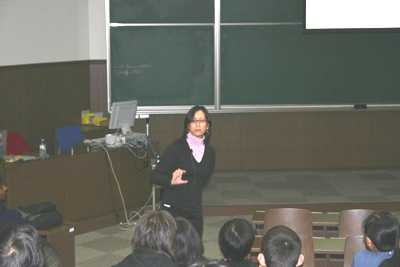 In the seminar, Ms. Rivera introduced the history of Nike and the spread of supply chain around the world, and talked about the practices of CSR.
Approximately 100 domestic and international students from all around the world attended the seminar, and one of the questions from a student from China was in regards to Nike factories in China. The students who attended had a strong interest in the economic activities of Nike companies in the Asia Pacific Region.