On Friday, April 4, 2014, the Spring Semester AP House Welcome Ceremony was held at the APU Millennium Hall, welcoming about 640 students from 40 different countries and regions. Faculty, staff and 64 Resident Assistants (RAs), who offer various supports to students living in the dormitory, also attended to welcome the new residents.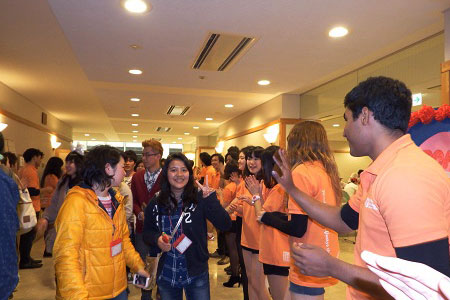 During the ceremony Dean of Student Affairs, KIM Chan Hoe addressed the students: "Your life here at AP House, interacting with students from around the world, will become a very special part of your university life, during which you will establish networks that will last long after you graduate from APU. Be positive and proactive in your interaction and exchange with other students, learn more about each other's cultures and make a lot of memories to take away with you." SHIONOYA Mii (College of International Management, 1st year, Japan) gave a short speech on behalf of the new residents about what she hoped to gain as she embarked on her new life. The students were then shown a video produced by the RAs, introducing the rules and regulations of AP House*.
Following the ceremony was a welcome dinner at the APU Cafeteria, where students were welcomed by a dance performance and self-introductions by each of the RAs.
In general, all international students, and a portion of domestic students, spend their first year living at the AP House dormitory next to the university campus. With an international to domestic student ratio of 7:3, the AP House student dormitory is home to approximately 1200 students. AP House offers 378 shared rooms and 932 private rooms. For residents, AP House is more than just a dormitory to live – it is a community where students can deepen their understanding of different cultures and for international students, a place where they can become accustomed to the Japanese lifestyle.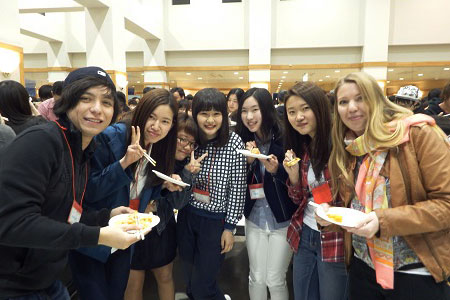 For more details on AP House visit "AP House (On-campus housing)"
*To see the RA-produced video on AP House rules click here.