On April 29, 2016, ONODERA Yasutada, senior managing director of Onodera Corporation and CHIBA Takahiro, head of the Kesennuma Reconstruction Association (KRA), traveled from Kesennuma City, Miyagi Prefecture to visit APU for a talk with APU Vice President IMAMURA Masaharu entitled, "Kumamoto, Kesennuma, and APU: Our Future after the Great East Japan Earthquake and the Kumamoto Earthquakes". Approximately 70 students and faculty attended the session, which was organized by APS Professor SEIKE Kumi.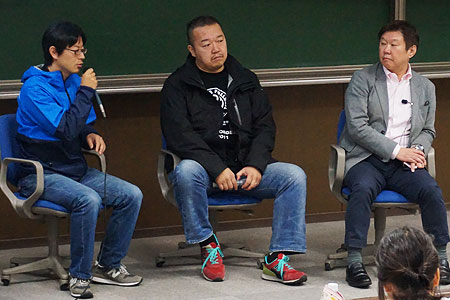 Mr. CHIBA started the session by explaining the situation that Kesennuma City faced after sustaining massive damage from the Great East Japan Earthquake that struck on March 11, 2011. He then discussed the city's subsequent reconstruction efforts.
After the Kumamoto Earthquakes, which began on April 14, 2016, Mr. ONODERA and Mr. CHIBA drove a truck full of relief supplies from Kesennuma to the disaster-stricken areas of Kumamoto Prefecture. "We didn't think that just going to the disaster-stricken area meant we could offer support. We could have chosen not to go, but we decided to make the trip because we were very concerned about the earthquakes in Kumamoto. We felt that we had to go," explained Mr. ONODERA.
APU Vice President IMAMURA Masaharu then spoke about how the University responded to the earthquake that struck Oita Prefecture on April 16, what lessons it learned, and how the students and local residents who fled to evacuation centers in the city overcame the ordeal.
One student participant asked how students can provide assistance to disaster-stricken areas. Mr. ONODERA replied by saying, "You can help by going to these areas and eating and drinking in restaurants. If that is not possible, purchase something made in that area. You can help just by drinking milk made in Kumamoto Prefecture, for example."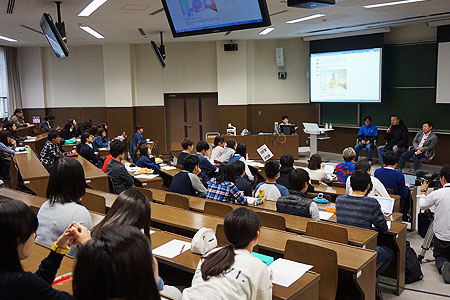 On April 11, 2016, APU concluded a friendship agreement with Kesennuma City. Going forward, APU and Kesennuma will discuss how to promote mutual exchange by sending APU students to Kesennuma to participate in internships and other activities. (More information about Kesennuma City can be found here: (http://www.japan-guide.com/e/e5036.html).