Ritsumeikan Asia Pacific University hosted a special lecture on Wednesday, April 13 by Mr. Akira Miyauchi, Tokyo-based sales representative for Bloomberg L.P. Japan. In his lecture titled "Bloomberg: How information is obtained/analyzed/shared in real-world business and finance", Mr. Miyauchi explained his passion for the company and what it's like to be a part of its worldwide expansion. A large number of people turned out for this session, including faculty members, students, and students currently looking to start their careers in Japan.
Mr. Miyauchi explained the conceptual process underlying the Bloomberg Application Service, giving a detailed demonstration of the keywords and codes necessary for data input. He provided the audience with a case study on how clients use Bloomberg's credible information for business deals and ventures. The audience got to hear about the ideal concepts that companies need to be aware of prior to closing a sales deal or investing in stock. Mr. Miyauchi also emphasized the company's dedication to transparency in the workplace and noted that employees communicate efficiently by chat and phone, with everything recorded for reference.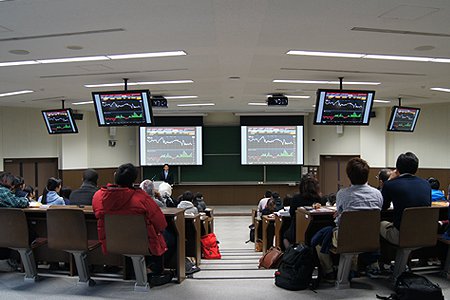 The audience raised many interesting questions on topics such as Bloomberg's competitors, the company's current position in the financial world, and its views on education. Mr. Miyauchi stated that Bloomberg is in negotiations with APU about establishing a Bloomberg network program for students of the College of International Management (APM). This program would allow students to use Bloomberg's resources to deepen their research and study. When asked about the price, Mr. Miyauchi said, "It's not cheap," but asserted that the program should provide benefits beyond the standard reach of higher education.
Reporter, Student Press Assistant (SPA):
THOMAS Blessing Temitope(Nigeria)