The APU 2016 Fall Graduation Ceremony was held on Friday, September 16, 2016. A total of 486 students, consisting of 379 international students and 107 domestic students from 32 countries and regions, including undergraduate, Masters, and PhD students, successfully graduated. Friends and family members gathered from around the world at B-Con Plaza in Beppu to celebrate the graduating students as they prepare to take what they have learned at APU to the next stage of their lives.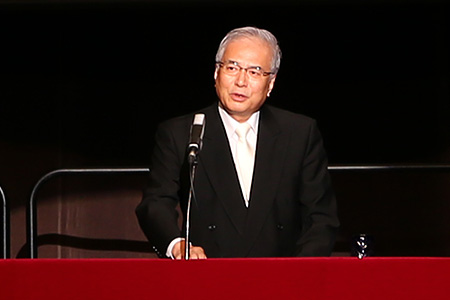 APU President KORENAGA Shun congratulated the graduates and offered words of encouragement. "I would implore you to keep our founding ideals close to your heart. [...] APU was founded with the ideals of freedom, peace, and humanity, international mutual understanding, and the future shape of the Asia Pacific region. These are the ideals we strive to reach. When you find yourself faced with an impersonal, chaotic world, be firm and resolute, and keep these ideals in your heart. Be confident, be proud, and remember that you are a part of an institution that values humanity in its search for universal truth."
(President Korenaga's full comments can be found
here
.)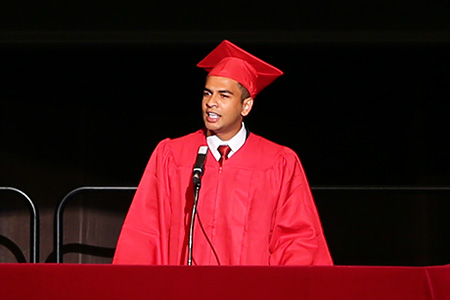 Graduates representing the undergraduate and graduate schools, each gave their own speeches and bid a farewell to their lives as students.
Vijayan Swathinath (College of International Management, India), recipient of this year's ANDO Momofuku Honor Prize, represented the undergraduate students at the ceremony in thanking and honoring the graduates: "In life if you want to do great things, indulge in a work where you have this excitement every day. Because every great work requires a lot of hard work and sacrifice. And this excitement will drive you each day and will push you beyond whatever you imagined you achieve. [...] Now go out and do a work that excites you. Work incessantly to change the world. Gather your fellow travelers to give you company. And do not be afraid to take risks. I wish all of you the very best in your journey"
Representing the Graduate School, ZOU Xiaolong (Graduate School of Asia Pacific Studies (Doctoral), China) also addressed the audience "I need not stress the multi-cultural, multi-lingual features of APU, since we are too familiar with this. Even though sometimes we might not see things eye to eye, we may disagree, or we may even argue; it is through difference of options we obtain alternatives, through disagreement we develop mutual understandings, and through arguments we reach solutions and resolutions.
Never have I felt so confident about the future of Asia Pacific, because in front of me, sit the generation of young leaders and change agents in various fields of different countries.
And it is through you, my fellow graduates, a new chapter of world history towards mutual understanding, regional cooperation, eco-and-social sustainability, will be written in the decades to come."
After the ceremony, each graduate was awarded with a diploma and the joy of the moment was captured in their beaming smiles. All of the graduates then gathered together to toss their red caps in the air to the chant of "We are APU" which was met with thunderous applause. The freshly minted graduates left the ceremony in a joyous rush - each one eager to start out on their new life journey.
The Fall 2016 Number of Degree Granted Students

Domestic Students
International Students
Total
College of Asia Pacific Studies (APS)
62
114
176
College of International Management (APM)
44
207
251
College Total
106
321
427
Graduate School of Asia Pacific Studies Master's Program(GSAM)
1
31
32
Graduate School of Management(MBA)
0
26
26
Graduate School of Asia Pacific Studies Doctoral Program(GSAD)
0
1
1
Graduate School Total
1
58
59
Total
107
379
486
The graduation ceremony was also broadcast live on the internet via Ustream. Footage can be viewed here.
APU Gallery
http://en.apu.ac.jp/home/gallery/article/?storyid=171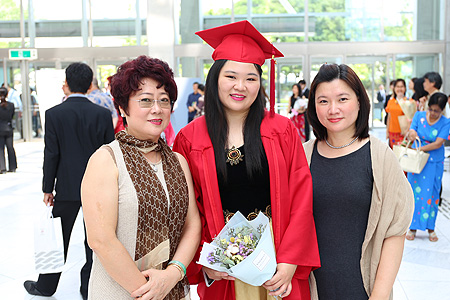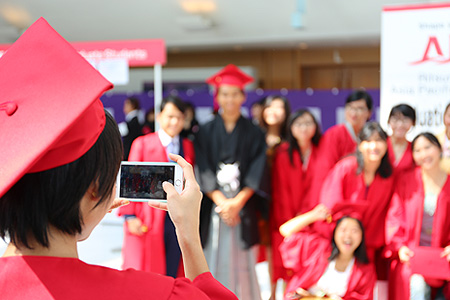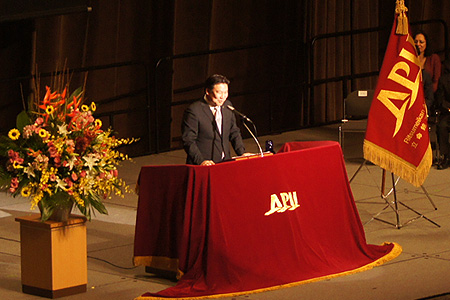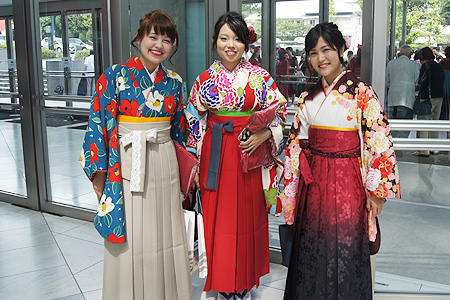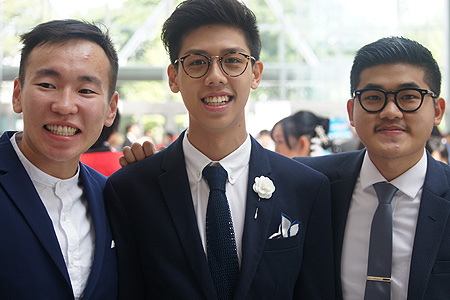 Related Link:

Notes from the President and Vice-Presidents