On Friday, September 30, 2017, APU's student housing, AP House, held its fall welcome ceremony at Millennium Hall. Approximately 500 students from 42 countries and regions attended. 62 Resident Assistants (RAs), student staff members at AP House, were on hand with faculty and staff to greet the new dorm residents.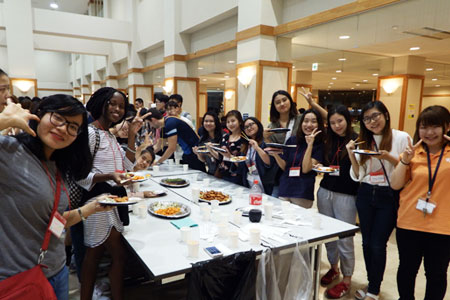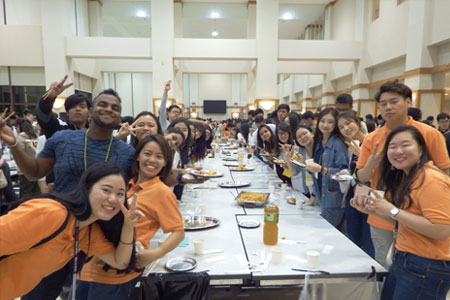 Generally, all international students in their first year reside at AP House, right next to the APU campus. Additionally, a large portion of domestic students request to live in the dorm. At present, the ratio of international to domestic students is 6:4 at AP House, where approximately 1,200 students live together. AP House contains 378 shared rooms, in which domestic and international students pair up and reside, and 932 private rooms. For residents of AP House, the dorm is more than simply a place to live. It is a place where students form a community, learning intercultural understanding by living with people who have completely different daily routines and backgrounds. Moreover, AP House is a place where international students can familiarize themselves with Japanese living customs and work on their Japanese-language skills.
(For details on AP House, please see "AP House (Student Dorm).")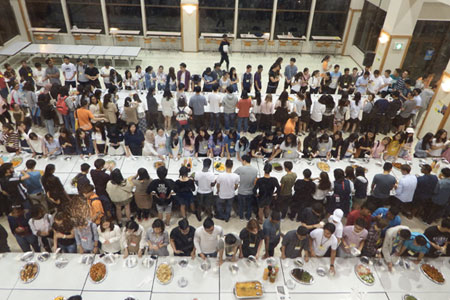 At the welcome ceremony, Dean of Student Affairs and AP House Director MAKITA Masahiro began the proceedings by offering words of encouragement to the students. Afterwards, RIFQY Tenribali Eshanasir (APS 1st year, Indonesia) addressed the audience on behalf of the new residents, speaking about their resolve towards their new life. PARK Ji Hyeon (APM 3rd year, South Korea) also offered welcoming greetings to the incoming students on behalf of the RAs, saying, "The memories and friends that you will make at AP House will be something that you never forget. You are living what will one day become the days that you wish you could return to after you have left AP House. Please enjoy your year at AP House not just as a dorm, but as a place where you can learn and experience things. You have your own color and so do others. Understand and respect each other, just like the way you want to be respected. Share your color and blend in with others. We can make our life more colorful. Never forget how it was easy to talk to people, start a conversation and make friends. Both in fun times and in hard times, the other RAs and myself will always be by your side. Please feel free to call upon us."
Additionally, the RAs showed a self-produced video called "Dame Dame (Don't Do This) Video (YouTube)," to illustrate the rules and etiquette of AP House in an easy-to-understand manner. After the video, current dorm residents performed a dance for each AP House building to welcome the new residents.
At the welcome dinner party, the new dorm residents enjoyed a buffet together, with residents from all buildings and floors in attendance.