From September 5 to September 19, 2017, APU students participated in the Community Based Resource Recirculation System Field Study program. Held in cooperation with Kunisaki City in Oita Prefecture, this field study program takes place in the three prefectures of Kyoto, Fukuoka, and Oita.
APU offers Field Studies courses in which students engage in off-campus academic investigation and research. The goal is for students to take theories learned in the classroom and further explore their practical application at real world locations.
Ten domestic students, and international students mostly from Southeast Asia, took part in this program coordinated by APS Professor TSUKADA Shunso. Lectures are conducted entirely in English. Field Study programs supply students with valuable learning opportunities and are conducted under agreements with a cooperating business.
Please click here to display below what students experienced during their fifteen day field study.
Students participating in the program were able to study in great detail the administrative processes of resource recirculation. The treatment of waste such as household refuse, wastewater, and livestock waste was originally considered to be strictly the work of government. The AMITA Group is implementing a new business model in which private enterprises and local residents cooperate with governments and the private sector to tackle these issues. The AMITA Group has already partnered with two local governments.
 
Participants examined methods for converting household and livestock waste into methane gas and transforming it into electricity and fertilizer, as well as mechanisms for converting scrap wood into pallets that can be used as a heat source.
 
In Kunisaki City, participants learned about sustainable methods of agriculture, and how recycling-oriented policies such as the use of biogas and natural conservation are conducted in cooperation between Kunisaki City Hall, local farmers, businesses, and citizens.
 
Student participants presented the lessons learned from the field study at a meeting in Kunisaki City with the Mayor, Deputy Mayor and other City Hall personnel. Local enterprises and residents also attended the meeting. The students' enthusiastic presentations were well-received, accompanied by numerous questions and a robust exchange of opinions.
APU is committed to the continuation of field study programs that provide its students with learning opportunities in cooperation with businesses and the community.
*The AMITA Group, headquartered in the City of Kyoto, engages in business activities that provide ever-improving solutions to society's challenges. With the realization of a sustainable society as its mission, the AMITA Group develops and delivers services that fulfill both social needs (environmental protection, health, community bonds, etc.) and market needs (low prices, high efficiency, high product quality, etc.).
Students meet with AMITA Group CEO KUMANO Eisuke at a traditional Kyoto townhouse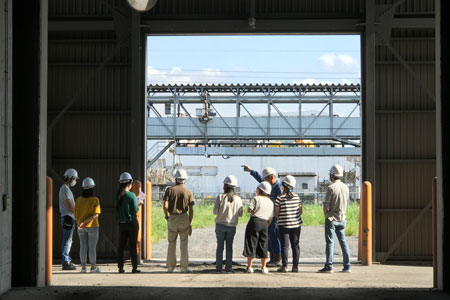 Tour of an AMITA facility in Kitakyushu
As part of the program, students visited a mushroom farm in Kunisaki City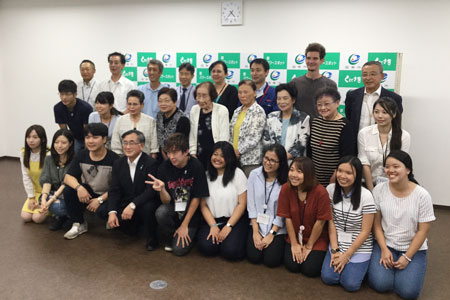 Participants pose with the Mayor of Kunisaki City and others after final presentations.