On October 4, 2017, the Ritsumeikan Asia Pacific University Research Center for Muslim Affairs (RCMA)* held its 5th Special Lecture at the Oita Bank Sorinkan building in Oita City. SHINMURA Takeshi, Executive Vice President of GANKO Food Service Co., Ltd., served as lecturer.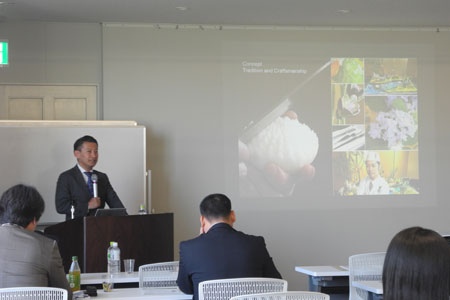 At RCMA, multiple research project teams engage in research with the support of Oita Bank Co., Ltd. and the INSPiRE Corporation. In addition to its own research endeavors, RCMA holds lectures on areas such as halal accommodation initiatives and appealing to tourists from Islamic regions. The goal of these lectures is to create opportunities for the local community, businesspeople, and other parties to engage in a dialogue with results from the organization's research.
For the fifth and most recent special lecture held by RCMA, "Today's Globalizing Japanese Food Market – How to Deal with Diversity," Mr. Shinmura gave a lecture on accommodating diversity based on a wide range of standpoints, covering areas such as the state of the Japanese food market and its accommodation of foreign travelers, the introduction of halal certification in the market, and efforts to train foreign employees. Mr. Shinmura explained GANKO Food Service's policy of accommodating foreign customers, which emphasizes the role of dining establishments as places that serve authentic Japanese culture rather than places that are accessible. One way for establishments to do so, he noted, is to keep elements in place that provide a genuine sense of Japanese culture while endeavoring to remove any possible obstacles between the business and the consumer. Mr. Shinmura also detailed initiatives being conducted by GANKO Food Service to train foreign employees while showing video clips and manuals used by the company as a part of multilingual training, on-the-job training, and other endeavors.
During Q&A time, questions addressed how GANKO Food Service instructs employees that do not natively speak Japanese, and how the company recruits large numbers of foreign employees. One attendee commented, "Today, I learned a good deal of things for the first time. The lecture was a great learning experience." Another noted, "The lecture covered a broad range of areas. It was really interesting."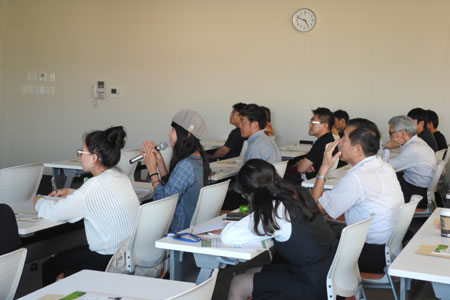 *RCMA: Research Center for Muslim Affairs. Affiliated research center of the Ritsumeikan Center for Asian Pacific Studies (RCAPS). Applies research on the nature of multicultural co-existence towards the exploration of models that also serve to contribute to regional revitalization. Information on RCMA events can be found here.