In today's rapidly globalizing economy, Japanese companies need employees with the skills necessary to succeed in international environments. Many of these businesses turn to APU's Global Competency Enhancement Program, sending employees to attend workshops and seminars over a period of two months on APU's multicultural campus.
In the second quarter of the Fall 2017 semester (December 2017 to January 2018), employees from The Iyo Bank Ltd., Nippon Light Metals Company Ltd., Tokyo Metro Co., Ltd., and Fujitsu Kyushu Systems Ltd. participated in the program. This was a significant opportunity for Japanese corporate employees to reassess their core values while immersed in APU's unique and diverse learning environment.
On February 6, this quarter's four participants met with President Deguchi to discuss what it meant to be a truly global business. They focused on the special characteristics of Japanese enterprises and management style, as well as case examples of international businesses. Discussion then touched upon how to increase work productivity within shorter working hours.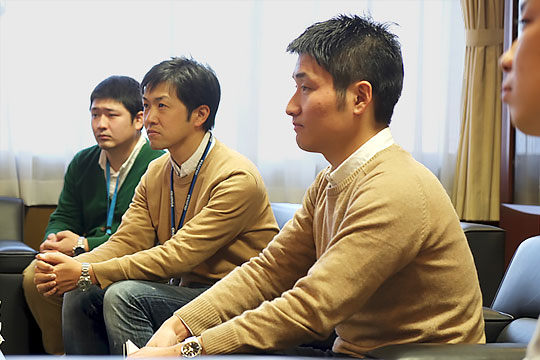 President Deguchi encouraged participants to make the most of their time on the program, saying "When you've been separated from your workplace for so long, you can take this opportunity to truly think. I believe this is a chance for you to learn things within APU's especially diverse environment that will be useful to you in the future. I'm grateful to your companies for sending you here, as well as for your feedback. I wish you luck when you go back."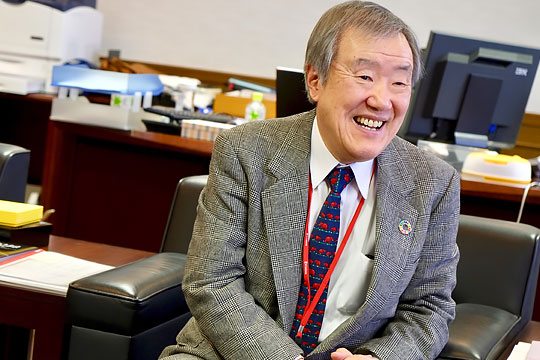 GCEP provides training to fit the needs of Japanese companies doing business in globalizing environments. This includes workshops to improve language ability and internationally-accredited coursework in management. GCEP aims to improve participant's global management skills, cultivating an appreciation for diversity and intercultural understanding.
For more details about the Global Competency Enhancement Program, please click here (available in Japanese only).