The International ONSEN Summit Organizing Committee led by Oita Prefecture Governor Katsutada Hirose has commissioned APU to research the topic of overseas hot spring areas. The university has agreed to take on the research project, with Professor Takayuki Kubo (College of Asia Pacific Studies) as the lead researcher. APU scholars conducted research and presented their findings at an event held during the International ONSEN Summit on May 26.
Beppu City, APU's home, boasts the most abundant hot spring resources both in number of facilities and quantity in Japan. The city government collaborates with the local community to promote its brand as an "Onsen (hot spring) Prefecture." In April 2018, APU became the first private university in Japan ever to be awarded UNWTO.TedQual certification for its Tourism and Hospitality program. TedQual is an international certification given by the United Nations World Tourism Organization (UNWTO) to leading tourism education and research programs. APU students can gain valuable learning experience in hot spring-related tourism, economics, and community development by means of conducting research on hot spring areas around the world.
A total of 18 regions including the 17 countries represented at the International ONSEN Summit, as well as Beppu City, were investigated as part of the research project. The countries and regions are as follows:
USA (Arkansas State), the Czech Republic (Hodnin), Germany (Bad Krozingen), France (Vichy), Hungary (Budapest), Spain (Madrid), Iceland (Grindavík), Italy (Abano), The United Kingdom (Bath), Jordan (Ma'In), New Zealand (Rotorua), Thailand (Chengmai), Mongolia (Bayankhongor), China (Shen-ning City, Hubei and Entai City, Shangtong), Korea (Pusan City), Vietnam (Tỉnh Tuyên Quang) and Japan (Beppu).
The scope of the commissioned research encompassed a comparison of the hot spring resorts in each area, cases of commercialized use of hot springs, use of hot springs for health treatments, differences in hot spring use, hot springs offering breathtaking scenes, unconventional hot springs (such as those located in unexpected locations), cultural differences in bathing methods, and more. In addition to these, Professor Kubo's seminar class examined the roles each hot spring resort played in local economies by investigating at great length the demographics, economic indicators, international tourism competitiveness and regional characteristics of each area.
The 14 students in Professor Kubo's seminar class embarked on the project after being divided into four groups, each being assigned with a region for investigation. Research methods mainly included gathering information from various websites about hot springs in each country or region and conducting hearings with APU international students from those areas. Students shared their progress and practiced presentations with each other, learning about the hot spring resorts around the world. They also had the chance to offer advice and opinions about other groups' presentations.
On Saturday, May 26, the seminar class participated in the International ONSEN Summit held at B-con Plaza in Beppu, presenting their research findings at the venue of a concurrent event, the "International ONSEN Resort Market."
The world's first International ONSEN Summit sought to explore the theme of diversifying the development of hot spring resorts around the world, with approximately 1,000 participants attending from overseas hot spring locations at 16 countries and 75 domestic municipalities. Amongst the events, UNWTO official Ms. Yolanda Perdomo, who specializes in promoting sustainable tourism, delivered a keynote speech on the potential of the development of hot spring resorts. Representatives of Iceland, Italy and France presented examples of the innovative use of hot springs.
Learning how the characteristics of overseas hot spring resorts are being optimized provided students with many insights and inspirations. Those participating in the project wish to make the most of their findings from surveying overseas hot spring areas in order to enhance the development of hot springs that maximize Japan's uniqueness.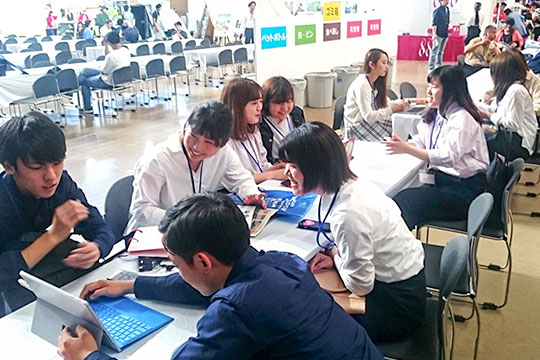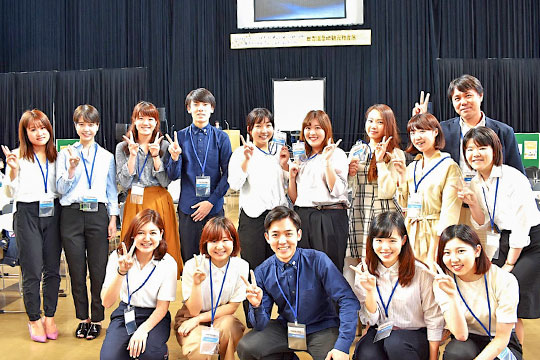 Documented by Yukiko Matsunari
College of Asia Pacific Studies, Third Year
Comments from student participants in the research project:
"I was surprised by the vastness of the presentation venue! I thought it was a little quiet at first. However, the size of the audience gradually built up and I was most delighted to see that the representative from Bath of the United Kingdom came to listen to us in the end."
"I was in charge of investigating the hot springs in Europe. As my research progressed the differences with Japanese hot spring culture became apparent. In addition, the promotion for hot spring spots is highly sophisticated, therefore I felt that Europe offers many cases Japan could learn from."
"I was assigned with the research of hot springs in the Asia Pacific region. I came to understand these areas differ in many aspects with the hot spring resorts of Beppu in Japan. The service industry in spa treatment and wellness are fully developed and can offer useful case studies for Japan in the future."
"It was a truly enjoyable experience since we discovered new things while investigating overseas hot spring resorts! I also thought the experience of presenting our findings was worthwhile indeed. The surprised expressions given by the audience upon hearing our presentations were a testimony to our hard work."
Third-year Seminar Class
Associate Professor Takayuki Kubo
College of Asia Pacific Studies
Saaya Ishibashi
Hina Kawano
Riko Kobayashi
Mariko Kono
Yukiko Matsunari
Ryo Mitsugi
Aimi Okabe
Takumi Rokuta
Yuki Sagara
Shiori Takagi
Natsuki Takatsuka
Suzuho Takei
Erika Tanaka
Aya Usamoto
(in alphabetical order)