On July 6, language instructors in APU's Center for Language Education (CLE) participated in a Faculty Development event. Faculty Development sessions, or FD, are professional workshops that aim to improve the quality of education at APU by reassessing course content and refining instruction methods. Besides English and Japanese, CLE instructors offer classes in some of the major languages of the Asia Pacific Region, including Chinese, Korean, Malay and Indonesian, Spanish, Thai, and Vietnamese.
CLE Director Akiko Honda began the session with, "Good morning everyone! Let's start the class." This brought smiles to all of the instructors who felt just like their own students at the beginning of a normal language class on any other day of the week.
June's FD session aimed for instructors to:
1. Learn and make use of methods that improve language education
2. Learn about instruction methods of the other CLE languages
3. Experience language class from a student's perspective and utilize that experience
4. Deepen connections with CLE instructors that teach other languages
One FD workshop focused on effective methods of language exchange. At APU, students in English and Japanese language classes participate in a language exchange event once every two months, giving domestic and international students the opportunity for classroom language exchange. Instructors of different languages (from Japanese and English to English and Thai) made pairs to create teaching plans that utilized two different languages.
Next, three instructors involved in the Faculty Initiatives Program gave presentations on their projects to improve language education. The three projects presented were:
1. Language education methods that utilize regional cooperation to motivate language learners
2. Gamification in language education methods
3. Tonal study of two character idiomatic expressions in Chinese language education at APU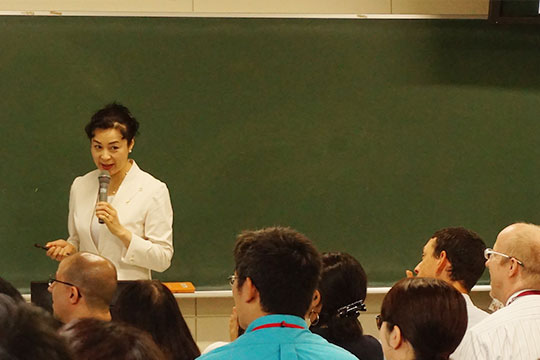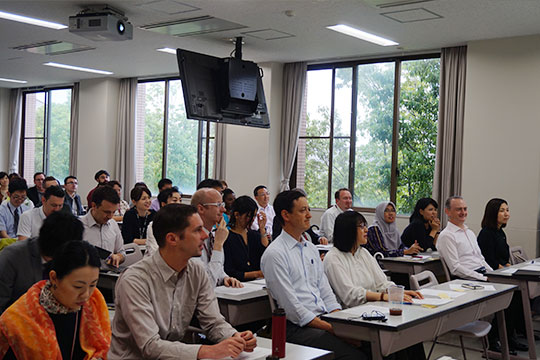 In the final workshop of the day, instructors experienced learning Thai and Vietnamese from a student perspective.
Just as they tell their own students, workshop "students" made sure to pronounce newly learned vocabulary loudly and clearly.
APU and CLE are dedicated to improving the quality of language education for a diverse student body. Instructors can look forward to more faculty development workshops in the future.