The Global Management (Capstone) subject serves as the culmination of four years of learning for students in the College of International Management (APM). Guest lecturers are invited to represent companies and discuss the issues their organizations face. Together, domestic and international students explore solutions to these problems, applying the management knowledge they have acquired over the course of their studies.
This semester's case was offered with assistance from Nihon Keiei Co., Ltd., a consultancy firm that specializes in business strategy, organizational strategy, and management improvement that works with healthcare and welfare institutions.
The class was divided into 11 teams tasked with finding solutions to a business challenge facing Nihon Keiei. After a rigorous screening process, the top three teams were selected to give final presentations. On July 18, five representatives from the company visited the APU campus.
The winning team was Vita Consulting, with members from Ecuador, the Philippines, Vietnam, and Japan. They proposed a model for reducing infant mortality by providing used Japanese incubators to Indonesia. The President and CEO of Nihon Keiei, Masatoshi Hirai, presented the team with their prize, a training trip to Tokyo, during which they will give their presentation again at the company's office in the city.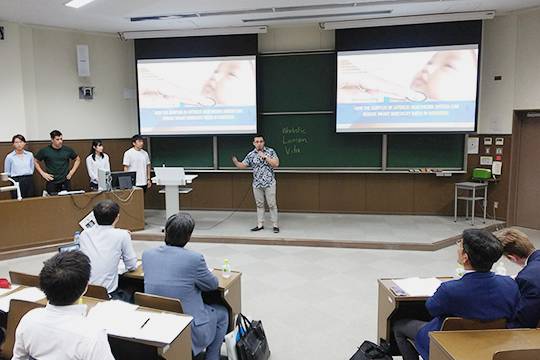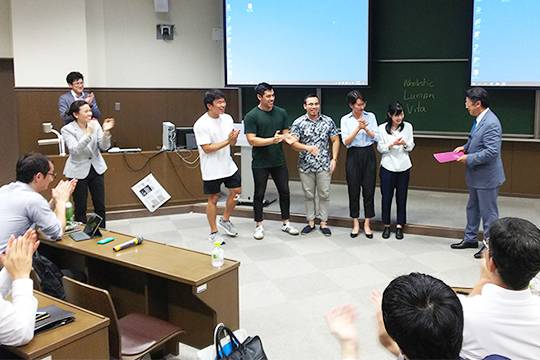 Two APU alumni are currently employed by Nihon Keiei, and they also provided support to the capstone course this semester.
In the fall semester, students will tackle a business case from the Kose Corporation. With the support of guest lecturers from multiple companies, APM students are sure to deepen their practical knowledge of the business world.