Employment Certificate Presentation Ceremony held for students appointed as "Cultural Advisors" and "English Activities Assistants" to Saiki City for the 2006 Academic Year
On Tuesday, May 30, 2006, an Employment Certificate Presentation Ceremony for students appointed as Cultural Advisors and English Activities Assistants to Saiki City was held in the APU Convention Hall.APU signed a friendship exchange agreement with Saiki City Tsurumi in July 2003 and with Saiki City Kamae in April 2004. International students are appointed as advisors to deepen childrens' cross-cultural and global understanding through participation in a Summer School and peace-orientated lessons and nature experience classes in local primary schools.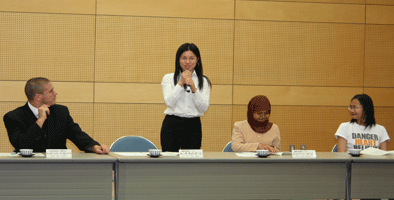 Saiki City which amalgamated with Tsurumi Town and Kamae Town this year accepted 10 "Cultural Advisors" and "English Activities Assistants."
During the Presentation Ceremony, the Head of the Education Board of the Saiki City Office, Mr. TAKEDA Takahiro presented certificates to the new advisors and assistants, and the 10 students gave short self-introductions and talked about what they hoped to achieve through the program.
The ceremony concluded with all the participants posing for a group photograph.
Over a 12-month period, the educational and cultural support advisors will take part in approximately 10 lessons at primary and junior high schools in Saiki City to deepen international understanding. In turn, the English Activities Assistants will participate in about 15 English and international exchange lessons of 4 hours duration at Matsuura and Nagoya Primary Schools in Saiki City specifically targeting 3-6 year students.
Saiki City's Educational and Cultural Support Advisors for 2006
Guo Yan Yan (GSM1, China)
Khiangkwan Kwayotha (APS1, Thailand)
Rizka Vidya Miladiani (APM2, Indonesia)
Le Thi Thuy Duong (APM3, Vietnam)
Saiki City's English Activities Assistants for 2006
Diyan Fariha Rosyidah (APM2, Indonesia)
Elena Tanina (APM3, Bulgaria)
Kim Arami (APM2, Korea)
Do Dieu Huong (APM2, Vietnam)
Reky Suarima Martha (APS3, Indonesia)
Mkouboi Mohamed Chami (APM3, Comoro)