On Friday, June 23 Mr. KONO Yasumi, a former Buddhist Priest from Usa Shrine led a lecture at APU on "The Ties between Usa Shrine (the head shrine of over 40,000 Hachiman shrines in Japan) and Korea."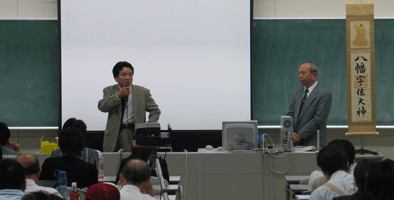 A panel included Dr. Kwon Kyungsang, Chief Executive, National Library of Korea; Prof. Lee Kwang Hee, Woosong University; and Associate Professor KIUCHI Akira, Faculty of Human Life Design, Toyo University, who contributed to a very productive lecture.
The APU Classrooms were teaming with over 300 students, with some even standing at the back of the room eager to hear the lecture. The students listened intently to Mr. Kono's interesting talk about his long service at Usa Shrine.