Training for leaders of the upcoming 'Multicultural Camp' was held over two-days at AP House and 'OJIKA' (Beppu City Private Nature House for Young People) on Saturday, May 19th and Sunday, May 20th. A total of 15 students including 9 international students took part in the event.More than 40% of the APU student body hails from 78 different countries and regions around the world. Therefore, within this multicultural context, APU initiates various opportunities for students to partake in international exchange and improve their cross-cultural communication skills. Students' knowledge pertaining to the culture and traditions of many nations is enhanced through a wide range of activities, classes and everyday student life.
The 'Multicultural Camp' which aims to 1) Foster exchange between domestic and international students, 2) Enhance cross-cultural understanding and 3) Strengthen student leadership skills, self-esteem and initiative, has been carried out since the 2004 academic year. Every year, approximately 100 domestic and international students participate in this overnight camp. The student camp leaders take the reins in organizing and executing the Multicultural Camp.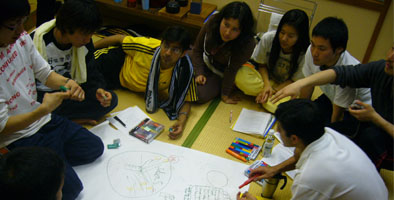 To provide student leaders with the necessary skills to put on a successful camp, a number of specialists will give presentations on topics like leading effective group discussions and safety management. The workshops are also a good opportunity for the students to get to know the other camp leaders and to understand what it is to be a 'leader'.
One of the participants Mr. Affan Alkindi (APM 2, Indonesia) said "The reason I participated in the camp was to communicate with people from different backgrounds, to make new friends, improve my language skills and develop the skills necessary to become a good leader. Through the workshops, I feel I have become more confident to speak in front of people. I also feel my language skill have improved and I have gained a more open mind. I truly hope the multicultural camp turns out to be a huge success."
Mr. Aryal Dinesh (APS 2, Nepal) added "It was a terrific experience to take part in the training and get a good idea of what constitutes an effective leader. My perspective has changed after sharing ideas with other students from all over the world. Participating has been a challenging and rewarding experience that has broadened my horizons".
This year's 'Multicultural Camp' will run from Saturday, June 30th to Sunday July 1st.