APU welcomes from overseas many regular students and also those who are here temporarily. Starting from this academic year, APU has enriched the programs by accepting many international students on short study programs that are tailored to meet each student's needs. APU's flexible academic environment that includes semester, quarter and session classes as well as the bilingual education system allows short program students to undertake a course that best suits their needs. The summer session is especially convenient for students from schools at countries and regions that go into a break period between June and August. Participants are given the opportunity to learn alongside other regular APU students during the regular spring and 2nd quarter classes.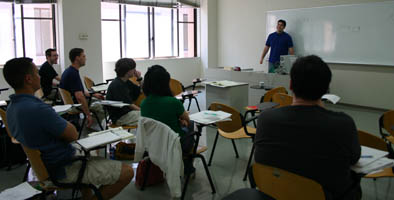 This year's "8 Week Summer Quarter Program" is currently in progress. A total of 13 American students from St. Edward's University, University of Vermont, Chapman University, New Mexico State University and University of Oklahoma are participating from June 1 to August 2.
During this program, the students take classes in Japanese language and culture, as well as academic courses in English. Other activities include an overnight field trip to Nagasaki, and many opportunities for cultural exchange with other students.
Two short-term exchange students from the United States of America, Justin SCHULZE (Chapman University) and Stephen FLUSCHE (Saint Edward's University) said, "It's fantastic participating in this program as it opens our eyes to so many different cultures and traditions and broadens our way of thinking. This is our first visit to Japan and we're really enjoying discovering new aspects about Japanese culture and trying new foods."