On Tuesday, July 3rd 2007, the Special Advisor to the Prime Minister of Japan, Mr. NEMOTO Takumi and his entourage visited APU.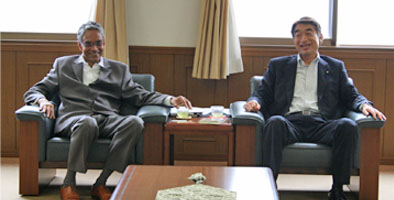 Mr. Nemoto is working towards the realization of the 'Asian Gateway Strategy' as a member of the council chaired by Prime Minister Abe.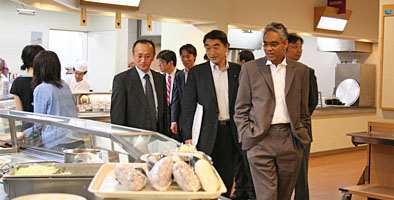 Special Advisor Nemoto and Director-General of the Economic and Industrial Policy Bureau, Mr. SUZUKI Takashi talked with President Cassim and a number of University executives about the 'Asian Gateway Strategy' and various other issues concerning finance, industry and education in Asia. They discussed APU's academic affairs and student activities as well as the expectations of the university given its recent successful application to the Asia Human Resources Development Fund.
After the talks, the guests were escorted around the campus, and students were given the opportunity to meet and greet Mr. Nemoto and his colleagues.
Please click
here
for more details on the 'Asian Gateway Strategy'.