AP House which fosters international learning has been carrying out various in-house programs since April this year. One such program is the 'Language Circle' which holds language sessions twice a month on Thursdays. The session is divided into an 'English Study Session' and 'Japanese Study Session'. The student clubs - 'English Thursday' and 'J Language Net' are in charge of each study session.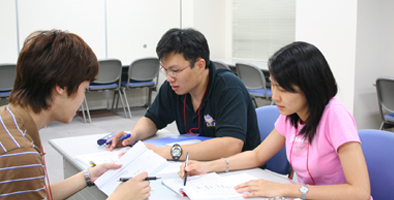 At the Japanese session held on Thursday, July 5th, 5 Japanese and 9 international students participated in the class. The participants were divided into small groups and focused on daily conversation.
During the class, the international students talked in Japanese about the cities and cuisines available in their countries, and also answered questions from fellow students. The atmosphere was markedly different to that of the usual Japanese class as the instructors and participants are of similar age. Everyone was able to enjoy a lively conversation throughout the entire session.