Six members of the APU Tae-kwon-do Club took part in "The 4th Oita Tae-kwon-do Newcomers Competition" on June 3 in Oita City. Five placed in the top three in 4 different weight classes.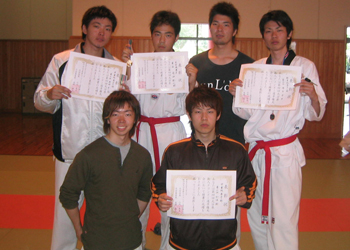 KATAYAMA Shojirou (Lightweight 1st place)
OGATA Yohei (Flyweight 3rd place)
OBO Tsuyoshi (Bantamweight 3rd place)
OKUNO Shojirou (Featherweight 3rd place)
GOTO Teruyuki (Lightweight 3rd place)

Practice certainly paid off for the majority of the team who achieved better results than in last year's competition. The team commented that they plan to work on their form and grow even stronger both physically and mentally.

A training camp sponsored by the Oita Tae-kwon-do Society will be held on July 15th. This camp aims to enhance the teams' tae-kwon-do skills, personal growth and motivation level through training alongside their rivals.

As well as working on Tae-kwon-do fundamentals, the members have also been developing a number of original routines such as a Tae-kwon-do inspired dance, which they have been performing at various events. This kind of activity is unique in Japan, but the Club considers it a great way to strengthen their identity. The members plan to continue experimenting with these kinds of Tae-kwon-do inspired activities.

The Club will continue to participate in Tae-kwon-do competitions and performances. The members hope to work on strengthening their individual skills and group identity.