The 'Homecoming Day - 2007 General Meeting' was held on Sunday, July 15 with approximately 30 graduates returning to APU to catch-up with their former classmates.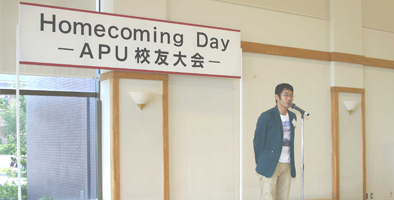 At the commencement of the General Meeting, APU Vice President TAKASUGI Tomohiko warmly welcomed the graduates back to APU. Afterwards, the President of the APU Student & Alumni Association, Mr. TAKEMOTO Shinya said a few words, "The 2006 Academic Year saw the activities of the APU Alumni Association greatly expand. I hope we will be able to continue on in similar fashion this year."
During the course of the event, the new executives were officially appointed, each promising to actively work towards the future development of the APU Student & Alumni Association.
After the meeting, a 'Homecoming Party' organized by Student & Alumni Association Committee members was held at the APU Cafeteria. A quiz based on APU was held and performances were held by a number of circles including APU's Samulnori group 'Shinmyon'. The event proved to be a wonderful reunion for students and staff alike.