'HIRAMEKI TOKIMEKI Science' is an educational program organized by the Japan Society for the Promotion of Science. It is tailored for middle and senior high school students so they can experience first hand research being conducted at Universities in Japan.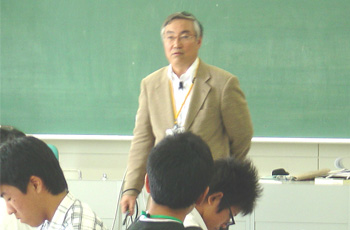 As part of this program, a session titled 'Manufacture of Goods in Japan and Asia – From the Birth of the Liquid Crystal Calculator to the Competitive Development of the Liquid Crystal TV' was carried out for high school students at APU on Saturday, July 21, 2007.
During the course of the event, APM Professor NAKATA Yukihiko showed how liquid crystals work, and used them as an example when speaking about manufacturing in Japan.
The high school students soaked up the opportunity to learn about research at universities, and through discussions with APU students experienced what it is like to study at university.