On Friday, September the 7th, APU held a special conference for top executives from national universities in Vietnam.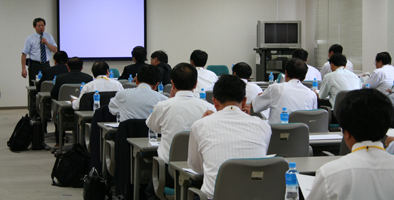 In the midst of pursuing policy reforms, the Vietnamese Government is promoting radical reforms in the university system, to be completed by the year 2020. The Government has been holding conferences about these reforms for the presidents, and predicted next round of presidents, of the country's national universities. These conferences have centered around learning about the current status of and reforms being carried out by Japanese universities. The objective of these conferences is to discuss ways in which this information taken from Japanese university examples can be utilized in reforms for universities in Vietnam.
APU welcomed 35 members from the first round of conferences held by the Vietnamese Government. After completing the theoretical part of the conference in Vietnam the group arrived in Japan to conduct fieldwork at the Ritsumeikan Suzaku Campus in Kyoto, the Ritsumeikan Biwako Kusatsu Campus in Shiga and at Kobe University. The group them gathered at APU to discuss their findings from the nine-day conference. Following this the group had a look around the university before finishing up with a closing ceremony.
From 2007, the Ritsumeikan Academy's mid-term plan has been to become a hubcap for 'Education and Research of an Asia Pacific Region Open to the World', and including Vietnam the Academy is undertaking a variety of projects within the Asia Pacific Region to help achieve this. The Ritsumeikan Academy's participation in this particular project was decided after the Vietnamese government saw the results achieved from the Academy's work with the 'Special Conference for Chinese University Executives and Management Personnel'.