On Friday September 14th, APU celebrated its 2007 Fall Graduation Ceremony. Over 800 students, family and friends gathered to celebrate with the 289 graduates from 41 countries, as they embarked on a new and exciting chapter in their lives.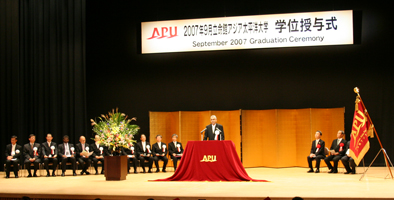 APU President, Mr. Monte CASSIM, encouraged the new graduates in his greeting, "Keep your dreams alive and draw on your courage and strength to make those dreams become a reality. As you make this transition from adolescence to adulthood and from one stage of life to another, we pray for your success in your individual quests."
The Ando Momofuku Honor Scholarship recipient Ms.TANINA Elena B., (APM, Bulgaria) in her representative speech on behalf of the graduates said, "I bestow warmest congratulations on the new graduates who have achieved excellence not only through perseverance of studies but also in extra-curricular activities. I would also like to thank family, friends and faculty members, who have supported us in our quest. Congratulations!"
Afterwards, graduate school representative Mr. BUI Anh Tuan (GSAM-APS, Vietnam) shared his passion by saying, "No matter what kind of difficulty you may be confronted with, face it positively, challenge it with all your might, and strive for the things you desire to achieve."
The ceremony concluded with the new graduates tossing their caps high into the air of the auditorium. It was a big day for them and represented the beginning of a new chapter in their lives.
Please click
here
for the President`s full welcome speech.