For its Fall Semester Entrance Ceremony, APU was visited by a distinguished delegation of high school principles from China, Thailand, and Taiwan. At the Entrance Ceremony there were many tradition dances and ceremonies performed for this semester's first-year students who hail from 55 countries and territories. Many of the principles said that they were happy to have been able to see the genuine multiculturalism of APU for themselves.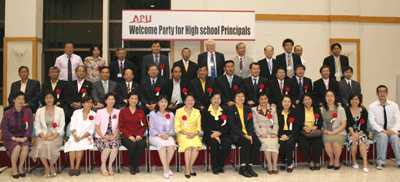 After the Entrance Ceremony the principles met with some former students from their respective high schools, who are now enrolled at APU. For some, it was their first time meeting in years. The principles asked questions like "What have you gained by coming to APU?" and "How have you changed since coming to APU?" one after another. The principles were also able to meet with faculty members and ask detailed questions about the education at APU and left with the impression that APU has the ability to produce talented graduates who will be able to participate actively on the world stage.
The day after the Entrance Ceremony the principles toured around the sites of Beppu and experienced first hand its tranquility and beauty. During their 5 days here, they were able to deepen their understanding of Beppu and APU, and said that they would continue to recommend APU to their finest students.