On Friday 19th October, 21 executives from institutes which have been deemed as top national universities by the Chinese government, including Nanjing University and Xiamen University, visited APU as part of the "National Academy of Education Administration Special Training Program".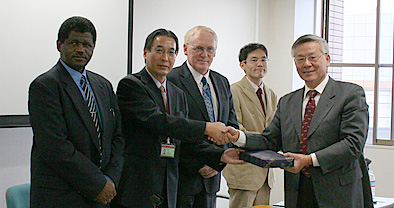 This program was implemented in 2004 by the National Academy of Education Administration, an organisation under the direct control of the Ministry of Education of China. It is offered to university staff below president level and executive staff of education departments in provincial governments in order to promote reform in 100 of China's top national universities. Held for three weeks every year in various places around the world such as Europe and America, this year around 30 members of staff were sent to Asia to take part in the training program, where it was held for a total of three weeks, one week in Korea and two weeks in Japan.
The Ritsumeikan Trust was commissioned by the Chinese Government to develop the training program conducted in Japan, and to facilitate the hosting of the seminar delegates. During the course of the program, the executive delegates studied aspects of the Japanese higher education sector, university administration as well as university and education reform.
This program, which was based at Ritsumeikan University, continued until Saturday 27th October and included lectures held at APU and fieldwork conducted at the University of Tokyo, Waseda University and the Ministry of Education, Culture, Sports, Science and Technology.