In 2007, APU applied to the Ministry of Education's Contemporary Education Needs Initiative Support Program (Contemporary GP) for funding in the area of Contributing to Regional Revitalization (Local Areas). An APU project entitled "Educational Systems that Utilize Student Capabilities for Community Contribution: Students and the Local Community Create the Beppu Hot Spring Tourism Renaissance Program", was successfully selected for the Contemporary GP Award last July.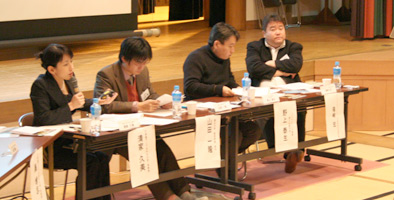 On Saturday 19th January 2008, the Tourism and Hospitality Institute, one of APU's interdisciplinary programs, served as the core organization for this project, and the institute held a Start-up Symposium on the theme of Tourism Promotion at Beppu Community Center in Beppu City. The aim of this symposium was to widely inform Beppu citizens, and the people involved in these activities who live in and outside of Beppu, of the institute's activities, and to gain the cooperation and a broader understanding from the local community.
The students involved in this program were divided into three groups in order to research three specific themes: "Reuse of traditional private residences", "Revitalization of tourism through hot springs", and "Research of Beppu's modernised heritage sites", and at the beginning of the symposium, the students gave presentations on their respective research achievements. The group that conducted the "Research of Beppu's modernised heritage sites" reported that out of 62 previously recognized sites (confirmed by reference materials), eight sites have disappeared. However they also reported the discovery of about 50 sites as possible candidates to replace those lost. Furthermore, the students also mentioned that as a result of their many trips around the city, often to the same areas, they were able to deepen their fondness for Beppu, and they gained a fresh perspective and learned new things from their interviews with the local people.
Last on the agenda was a panel discussion on the theme of "Utilizing Student Capabilities for Community Development", where the panelists introduced various examples of student involvement in regional revitalization activities in Beppu and other prefectures. They also exchanged opinions on how to further improve their organisational skills and student resources in order to continue these activities on a long-term basis.