The Republic of Croatia Ambassador to Japan, Mr. Drago STAMBUK, visited APU on 12th May 2008 and was welcomed by APU President Monte CASSIM, APS Professor KONDO Yuichi and APS Associate Professor GHOTBI Nader. The gentlemen engaged in talks covering a wide variety of topics from Beppu's Argerich Music Festival, currently being held in Oita Prefecture, to the founding spirit of the Ritsumeikan Academy.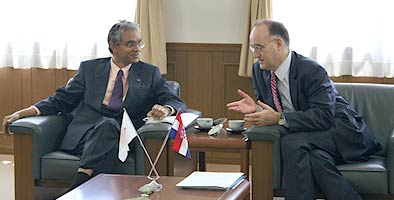 Ambassador Stambuk commented, "Amid the advance in internationalization, the recruitment of highly-skilled personnel from around the world is an important issue. If Japan became an environment in which one could comfortably live and work, not only in Japanese, but also in English, then even more skilled people would come here, and this would surely increase Japan's international competitiveness as a result." President Cassim replied, "APU offers courses in both English and Japanese, and we are cultivating young people to be able to conduct their work and daily lives in both languages."
After the talk and before leaving from Oita, the ambassador enjoyed lunch with President Cassim at the APU cafeteria.