6 APU students attended the St. Gallen Symposium held in St. Gallen, Switzerland for 3 days from 15th to 17th May.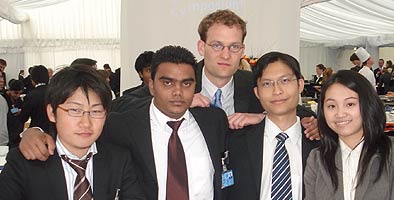 The St. Gallen Symposium has been held since the 1970s. It is the oldest international symposium in Switzerland. The International Students' Committee (ISC) which is an independent initiative of students at the University of St. Gallen and Harvard University organizes the symposium every year.
Approximately 1,000 leaders in politics, economics, academics and students from all over the world take part in the symposium every May. They exchange opinions freely and constructively on the key issue set in advance. From Japan, celebrities attend the symposium every year. This year, 6 key figures including Dr. KUROKAWA Kiyoshi, a Special Advisor to the Cabinet, Mr.AKASHI Yasushi, a former Undersecretary-General of the UN, and Mr.HAYASHI Yoshimasa, a member of the House of Councilors attended as speakers.
The 200 students are selected out of entries from all over the world based on their theses. The ISC covers their travel and accommodation costs. The most outstanding theses will receive the award and get the opportunity to represent his or her opinion to the audience in the symposium. The theme of the theses this year was "Global Capitalism-Local Values". 200 students, including 6 APU students, were selected and invited to the symposium out of 1,000 from the world.
At the end of the St. Gallen Symposium, SHINOHARA Mari (APS2, Japan) talked about the symposium as follows
"During the St. Gallen Symposium, I talked with distinguished scholars and business leaders and I felt the need for "learning" and language skills, not restricted to areas of personal interests. I especially felt very strongly that I need English proficiency. In the future, I would like to make good use of this experience and I want to take action from Japan in the global network environment. "
Official Web Site for St. Gallen Symposium
URL:
http://www.stgallen-symposium.org/index.htm
Dr. KUROKAWA Kiyoshi's Blog (Special Advisor to the Cabinet)
[Title: From St. Gallen]
http://www.kiyoshikurokawa.com/jp/2008/05/st-gallen-1b7c.html
Dr. Yoko Ishikura's Blog (Professor of the Graduate School of International Corporate Strategy, Hitotsubashi University)
[Title: 38th St. Gallen Symposium]
http://www.yokoishikura.com/english/?p=92
[Title: From St. Gallen to Tokyo]
http://www.yokoishikura.com/english/?p=94
[Title: St. Gallen Symposium (Part 1-3)](Japanese)
http://www.yokoishikura.com/?p=267
http://www.yokoishikura.com/?p=269
http://www.yokoishikura.com/?p=271