A photo exhibition to highlight student volunteer activities in Thailand was organized by the APU premier student organization PRENGO, and opened in Beppu's Momijiryo Nursing Home on 11th May 2008.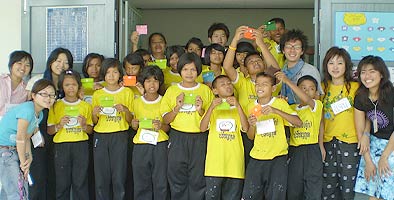 Every year in February and September, PRENGO members visit Huai Mahad School in Rayong Prefecture, Thailand, to engage in educational support activities. In addition to this, first and second-year PRENGO members also engage in volunteer activities every year at Beppu's Momijiryo Nursing Home as their contribution to the local community.
The current photo exhibition, made possible due to the kind cooperation of the Momijiryo Nursing Home, aims to inform the residents, their families and the general public of PRENGO's volunteer activities.
On the opening day, many people arrived with a keen interest in seeing the exhibition and PRENGO's PR manager, Mr. MURAYOSHI Yutarou (APM2, Japan), said, "I was so grateful to hear such words of encouragement from the residents and visitors. I hope this exhibition will further deepen their understanding about our activities."
The photo exhibition is open to the public until 30th May and entry is free.