On Friday the 16th of May 2008, Prime Minister Fukuda held a convening of the Meeting on Education Rebuilding at the Toshi Center Hotel in Chiyoda, Tokyo. The meeting, comprising a group of several key figures, was established with the purpose of discussing the modality of education in the 21st century and to follow up the recommendations made by the Education Rebuilding Council.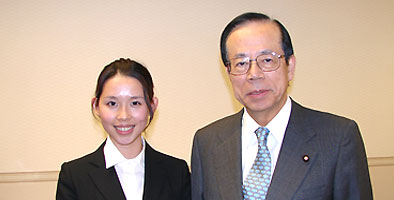 At the meeting, Ritsumeikan University Vice Chancellor HOMMA presented policy proposals based on the educational achievements of Ritsumeikan University and APU. These proposals were presented to attendees including Prime Minister FUKUDA, Chief Cabinet Secretary MACHIMURA and Senior Vice-Minister for Ministry of Education IKENOBO.
Ms. MAI Hoai Giang (APM4, Vietnam) delivered a speech about how, after coming to Japan as an foreign student, she has matured through her various experiences at APU. She also spoke about her job at a Japanese company that she will be starting this fall.
After the meeting, Prime Minister FUKUDA offered MAI Hoai Gian words of encouragement directly, renewing her expectations and determination about starting her new career in Japan.
Website of the Meeting on Education Rebuilding (Japanese Only)
http://www.kantei.go.jp/jp/singi/kyouiku_kondan/index.html