The Saiki City Board of Education appointed 11 international APU students as Cultural Advisors to Saiki City at an Employment Certificate Presentation Ceremony held in the APU Convention Hall on Wednesday, May 28, 2008.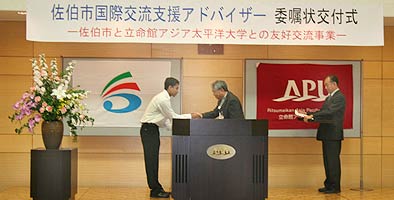 APU signed a Friendship Exchange Agreement with Tsurumi Town (now Saiki City Tsurumi) in July 2003 and Kamae Town (now Saiki City Kamae) in April 2004. International students from APU are chosen and appointed as advisors to Saiki City, helping to facilitate international exchange activities such as visiting primary and junior high schools to interact with local children. Students started working as 'Saiki City Cultural Advisors' in July 2006, after Tsurumi and Kamae amalgamated with Saiki City and a new friendship exchange agreement was signed.
The ceremony was attended by Mr. TAKEDA Takahiro, head of the Saiki City Education Board, and principles from 14 primary and junior high schools actively involved with exchange activities with APU. Mr. TAKEDA presented certificates to each student advisor. The students then each gave a self introduction and spoke briefly about what they hoped to achieve through the program. DAVAADORJ Uyanga (APS3, Mongolia) said 'I want to teach language and culture to the children in an enjoyable way. I also hope to learn about Japanese customs and way of thinking.'
The cultural advisors will be involved in approximately 10 lessons and projects, predominately at primary and junior high schools, throughout the 12 month period.
Saiki City's Educational and Cultural Support Advisors for AY2008
Lam Thanh Huyen(APM2,Vietnam)
Mgdalena Manggala (APS2,Indonesia)
Aryal Dinesh (APS3,Nepal)
Perera Male Tantrige Buddhini (APM2,Sri Lanka)
Bunditvatidkul Patwaran (APM2,Thailand)
Pailin Rodpothong (APM2,Thailand)
Khiangkwan Kwayotha (APM3,Thailand)
Davaadorj Uyanga (APS3,Mongolia)
Singh Ramandeep (APM2,India)
Hossain Imam (APS1,Bangladesh)
Zhu Ting (APM3,China)