The President of the Republic of Malawi, His Excellency Dr. Bingu Wa MUTHARIKA visited APU to give a commemorative lecture in the APU Convention Hall on Saturday, May 31st, 2008.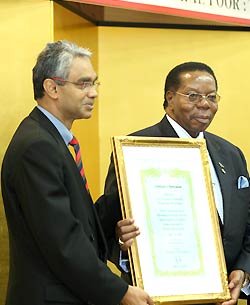 President MUTHARIKA came to Oita to experience the One Village One Product (OVOP) movement first hand. APU continues to support the OVOP movement through research related activities, which made it possible for President MUTHARIKA's recent visit.
In addition to President MUTHARIKA, the Rural Development and Local Government Minister Dr. G. CHAPONDA and an accompanying delegation from the Republic of Malawi also attended the ceremony. From Japan, the International OVOP Policy Association President HIRAMATSU Morihiko, Vice President ANDO, International Department Head KIMOTO, APU President Monte CASSIM, Vice President YAKUSHIJI Kimio and 85 APU students were in attendance. President CASSIM extended a warm welcome stating, "Currently APU hosts 2 outstanding students form Malawi. Even within the most impoverished areas lies a bounty of knowledge. I believe that if we can share this knowledge with the rest of the world it will surely lead to global development." A commemorative lecture was then given by President MUTHARIKA.
The title of the lecture was "TAKING DEVELOPMENT TO THE RURAL POOR: THE OVOP IN MALAWI". President MUTHARIKA commented that "since the introduction of the One Village One Product movement in Malawi in 2003, 48 projects have been successfully developed nationwide. OVOP is one of Malawi's most important projects in promoting rural development and reducing poverty". President MUTHARIKA also gave encouraging words to the students, saying "if you work hard enough you can achieve anything". Following the lecture students were given the opportunity to ask questions to the president. Such questions from APU students included, "how the Malawian government plans to tackle issues of the environment, education, and public health" and "what African leaders are doing to promote investment in Africa", leading to a lively exchange of opinions.
Following the lecture APU President Monte CASSIM presented President MUTHARIKA with a certificate of appreciation. President MUTHARIKA and his delegation then left APU to visit a few of the One Village One Product movement locations in the Oita area.