"The Seminar on the Civil Servant Employment -Oita Prefectural Government version-" was held on Friday, May 23rd ,2008 at APU. The lecturers were Oita prefectural officials, Mr. ABE Yukinori of the Public Service Personnel Division of the Personnel Committee and Mr. SARUWATARI Takato of the General Affair Department of the Eastern Development and Promotion Bureau.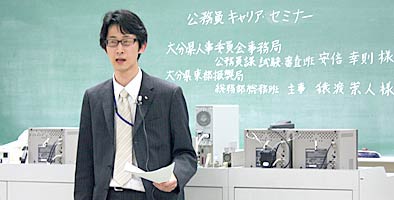 In the lecture, Mr.ABE talked about kinds of the civil servant employment examination and work contents. He commented, "It's possible to teach yourselves for the exam, but taking the preparatory course might be good in order to learn quickly and easily sometimes. Utilizing the course is one of many methods."
In conclusion, Mr.SARUWATARI, an APU alumnus, made this remark to his juniors. "Students can do a lot of things during their collage days and try voluntarily. Even if you embarrass yourself through some activities and feel frustrated, it is only because you have experienced many things. If you do nothing, you don't need to struggle and frustrate. Please note that you need to be ambitious to be what you want to be, do your best for it continuously and discipline yourselves. However, when you need some help, don't drop into deep thought alone but ask for some advice and the way of the solution to your friends and persons with life experiences such as parents and teachers".