Chinese week began on Monday, June 16, 2008 and will continue thru June, 20.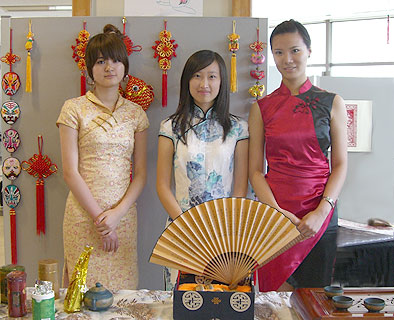 With students from 81 different countries and regions around the world at APU, "Multicultural Weeks" are held to showcase the languages and cultures of a diverse range of countries. Every year several countries and regions are highlighted.
In 2008, 5 countries will be introduced during the Multicultural Weeks. Chinese Week is the first to be introduced this year.
During the Chinese Week, APU Cafeteria will be trimmed with traditional Chinese knotting. A variety of Chinese foods will also be offered there. On the 16th, there was a photo exhibition of famous Chinese cities and beautiful scenes at the cafeteria which appealed to many people.
627 students whose mother tongue is Chinese are currently pursuing their studies at APU. The APU Confucius Institute is offering Chinese language and cultural lectures to students and local residents actively, the interest in China has been building recently.
The schedule for Chinese Week from June 16 – 20 is as follows:
June 16 (Mon)
Event1: Photo Exhibition on famous Chinese cities and beautiful scenes
Time: 10:00-17:00
Venue: APU Cafeteria
Event2: The 1st TENKA Table Tennis Competition
Time: 18:00-21:00
Venue: APU Gymnasium
June 17 (Tue)
Event: The 2nd TENKA Japan-China Exchange KARAOKE Competition
Time: 18:30-20:00
Venue: APU Millennium Hall
June 18 (Fri), 19 (Thu)
Event: Chinese Calligraphy Exhibition
Time: 10:00-17:00
Venue: APU Cafeteria
June 20 (Fri)
Event: Chinese Performances (Chinese dance, singing and military arts performances)
Time: 18:30-20:45
Venue: APU Millennium Hall