On Thursday, May the 22nd 2008, APU President Monte CASSIM and faculty members from APU's Health, Environment and Life Science (HEALS) and Information, Communication and Technology (ICT) Institutes visited the Yamatake Corporation's Fujisawa Technology Center in Kanagawa prefecture. The head office of the corporation is in Tokyo.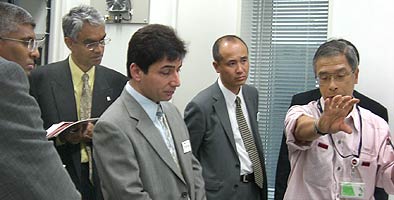 Since its founding in 1906, the Yamatake Corporation, listed on the First Section of the Tokyo Stock Exchange, has continued to build its measurement and control technologies 'automation' industry both within Japan and abroad. In recent years, Yamatake has made a commitment towards "human-centered automation," taking into consideration environmental preservation, energy efficiency and fulfillment in peoples' lives. While providing optimum solutions in industrial, factory and building automation, Yamatake also conducts the development of systems related to nursing care equipment and lifeline utilities such as gas and water.
Yamatake has labeled its Fujisawa Technology Center a model factory for energy conservation. The center carries out measures in energy conservation that range from every day ideas to measures that use state-of-the-art technology. One of these ideas involves the advanced technology laboratory, office buildings home to approximately 2000 employees. Through projects such as the utilization of outside air and natural light, the laboratory building is making extreme efforts into the areas of environmental conservation and energy efficiency. The Institute for Building Environment and Energy Conservation awarded the laboratory building with the highest level (S level) on its Comprehensive Assessment System for Building Environmental Efficiency (CASBEE) scale. CASBEE is a labeling tool that awards ranks based on the environmental performance of buildings.
President CASSIM and APU faculty members observed the energy efficient facilities, while receiving an in-depth explanation by Yamatake staff. Ideas and opinions were exchanged with staff from the Fujisawa Technology Center, including the possibility of collaborative research between the Yamatake Corporation and APU.
Yamatake Corporation Official Website
http://jp.yamatake.com/