The Thailand Men's National Volleyball Team held a training camp at APU between Monday the 9th and Friday the 13th of June.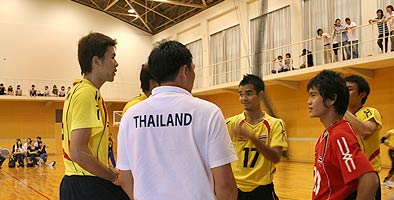 The team came to Kyushu after competing in the final qualifying round for the Beijing Olympics held in Tokyo earlier this month. The aim of their visit is to train for the 20th Asian Pacific Cup Men's Volleyball Games in Fukuoka being held in Fukuoka city between Friday the 20th and Sunday the 22nd of June. The team was able to fine-tune its game through, among other things, a friendly game with the "Oita Miyoshi WEISSE ADLERs," a team they have had contact with before. The Oita team plays in Japan's premier volleyball league. Two APU students work as volunteer interpreters for the Oita Miyoshi WEISSE ADLER team, and were instrumental in bringing the Thailand team to train at APU.
During the training camp the Thailand team stayed at AP House and trained in the APU gymnasium. The friendly game with the Oita Miyoshi WEISSE ADLERs was held on Thursday, June the 12th and was cheered on by APU students and local citizens. The audience enjoyed the fast-paced game that the Oita team ended up winning 3 points to 2.