On June 25th 2008, Mr. Kim RONNING, Recruitment Manager at the World Food Program's (WFP) headquarters in Rome, visited APU to give a lecture entitled "Working for an International Organization." Mr. RONNING's witty personality made for a lively and animated lecture. During the question and answer period, both undergraduate and graduate students kept up a continuous stream of questions.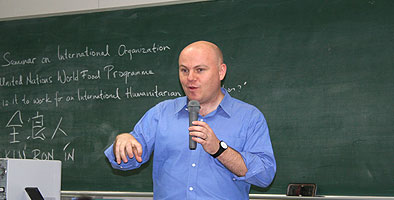 The lecture was the third in a series of "International Field Career Seminars", held for APU students interested in working in international organizations. Due to the large number of students wanting to work at the United Nations, other international organizations and national organizations dealing in international cooperation, APU tries to give students various opportunities to listen to lectures by people active on the international stage.
Mr.RONNING started the lecture by introducing the role and history of the Wood Food Program since its establishment 40 years ago. He explained that "through the provision of nutritious foods, which can help delay the onset of AIDS-related illnesses, the WFP is also contributing on a healthcare front." 18 of the countries that had been receiving WFP support have reached a level now where they no longer need it. The WFP is slowly but surely producing positive results. Mr. RONNING went on to talk about the attributes necessary to find work in an international organization. In addition to knowledge and skills, you also need a personal philosophy, determination, the ability to acknowledge problems, good people skills, stamina, the ability to manage stress well, and the ability to think with the people the organization is helping in mind.
Following the one and a half hour lecture, Mr.RONNING kindly spent another hour answering each question from for students enthusiastic about working for international organizations at a get-together.
The number of APU graduates working in the international field is increasing. Amongst them is Morse FLORES (Philippines), a 2006 graduate who is currently working for the United Nations International Labour Organization (ILO) in Geneva.
The next "International Field Career Seminar" is being held on July the 18th. The TICAD (Tokyo International Conference on African Development) Manager for the Ministry of Foreign Affairs' (MOFA) Middle Eastern and African Affairs Bureau will be giving a lecture entitled "The Frontiers of Japan's Diplomacy."